Your Film Studies Career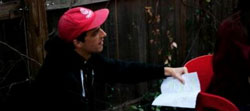 My advice, to those that would like to pursue either writing or a career in production, is to always be networking, whether in college (with other writers or students interested in film) or with companies you can contact and get in touch with from the East Coast. Make a short film in Boone. Write and read every day. DO NOT QUIT."
-- Chris Ball App State Film Studies Graduate pictured right working in Hollywood
Are you interested in a career in the film industry, or as a critic of the art form? Do you see yourself directing documentaries or writing comedies? The Film Studies Concentration is solid preparation for any number of positions and a base for graduate studies.
Potential Careers
Art Director
Casting Director
Cinematographer
Director of Photography
Executive Producer
Film Director
Film Producer
Literary Agent
Production Accountant
Production Assistant
Production Coordinator
Production Designer
Script Supervisor
Unit Production Manager
Writer
North Carolina Film Industry
Industry Publications