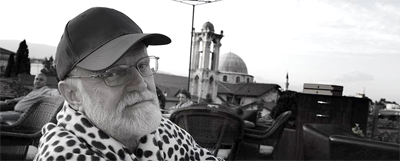 Dennis Covington is an American writer whose work includes two novels and four nonfiction books. His subject matter includes spirituality, the environment, and the South. Covington's book Salvation on Sand Mountain was a 1995 National Book Award finalist and his articles have been published in The New York Times, Vogue, and Redbook. His most recent book, Revelation: A Search for Faith in a Violent Religious World, chronicles his travels in Syria during the on-going civil war.

Born in 1948 in Birmingham, Alabama, Covington studied fiction writing and earned a BA degree from the University of Virginia, then served in the U.S. Army. He earned an MFA in the early 1970s from the Iowa Writers' Workshop, studying under Raymond Carver. He taught English at the College of Wooster. He married his second wife, writer Vicki Covington, in 1977. The couple returned to Birmingham the following year, and he began teaching at the University of Alabama at Birmingham. They have two daughters and three grandchildren.

In 1983, Dennis Covington went to El Salvador as a freelance journalist. In 2003, he became Professor of Creative Writing at Texas Tech University. In 2005, he was a judge for the National Book Awards.

His books include: Lizard (Delacorte Press, 1991), for younger readers; Lasso the Moon (Delacorte Press, 1995), for younger readers; Salvation on Sand Mountain: Snake Handling and Salvation in Southern Appalachia (Addison-Wesley, 1995); Cleaving: The Story of a Marriage (with Vicki Covington) (North Point Press, 1999); Redneck Riviera: Armadillos, Outlaws, and the Demise of an American Dream (Counterpoint, 2004); and Revelation: A Search for Faith in a Violent Religious World (Little Brown & Company, 2016).
(Dennis Covington VWS pdf flyer)
Thursday, April 19
Reading:
7:30 p.m.
Table Rock Room
Plemmons Student Union
Craft Talk:
Taking Risks, Staying Sane: The Place Where Nonfiction and Fiction Intersect
2-3:15 p.m.
Table Rock Room
(faculty host: Mark Powell)
Book sales and signing will follow each event. Admission is free.
PARKING is free on campus after 5 p.m. We recommend the Library Parking Deck on College Street (from King Street, turn down College Street at the First Baptist Church). To reach the Student Union, cross College Street and follow the walkway between the chiller plant and the University Bookstore, passing the Post Office and entering the Student Union on the second floor. For further parking information or a map, please see parking.appstate.edu.
For further information on the Spring 2018 season, please email weinbergsc@ appstate.edu. Facebook: appstatevisitingwriters. Website: visitingwriters.appstate.edu.
THE VISITING WRITERS SERIES is named in honor of Hughlene Bostian Frank (class of 1968), a 2013 Appalachian Alumni Association Outstanding Service award recipient, past member of Appalachian's Board of Trustees, current board member of the ASU Foundation, and generous supporter of Appalachian State University.
THE SPRING 2018 HUGHLENE BOSTIAN FRANK VISITING WRITERS SERIES IS SUPPORTED BY:
Appalachian State University Foundation, Inc.
Appalachian's Office of Academic Affairs
College of Arts and Sciences
Department of English
Office of Multicultural Student Development
University Bookstore
Belk Library
Appalachian Journal
BUSINESS SPONSORS:
The Gideon Ridge Inn
The Red Onion Restaurant
The New Public House & Hotel
COMMUNITY SPONSORS:
John and the late Margie Idol
Paul and Judy Tobin
Alice Naylor
Thomas McLaughlin
In Partnership with the Black Mountain College Semester: