Curious about how to get your writing, scholarly thoughts, and creative work out there? Want to receive feedback on your work? Not sure where to begin?
If any of the above ring true for you, read on. This article will give three great options for Appalachian State students to begin their journey to publication with, plus a few bonus tips for on-campus events and opportunities to help improve your writing.
To begin, there are three major places that ASU students can submit their writing and visual artwork on campus: The Peel, Cold Mountain Review, and Appalachian Journal. The former is a student organization with which the English Department is affiliated, while the latter two were born in the English Department and are supported by English faculty and graduate students.
The Peel
The Peel Literature & Arts Review is the student-run literary arts publication at App State. The publication provides a great outlet for students to express themselves and is an amazing opportunity to get published. The Peel is published online at the close of each semester, as well as once in print at the end of each school year. If you'd like to view some of the previously published online editions, visit their website, of which a new version is being launched on April 24th.
Encouraging community and a variety of creative expression, The Peel accepts submissions of work in four main sections: Poetry, Prose, Visual, and Sound. The visual category includes, but is not limited to, Photography, Mixed Media, Design, Fashion, and Illustration/Drawing. Each semester The Peel sets both initial and final deadlines by which students can submit their work. All initial submissions are anonymous and are reviewed by a student committee. Another fantastic aspect of The Peel is that everyone who submits work by the initial deadline will receive a critique from one of The Peel's committees with feedback on each piece.
Click here to see how you can submit to The Peel.
Click here to read a more in depth article about The Peel.
Want to support The Peel? Contribute to or share their GoFundMe.
Cold Mountain Review
Cold Mountain Review is one of the oldest continuous publications in North Carolina, and resides right here on App State's campus within our English Department. CMR is published twice a year and is supported by Appalachian's Office of Academic Affairs and the College of Arts and Sciences, which enable the learning and publications program.
Faculty from the English Department, as well as graduate students, run this literary journal. CMR is "multi-genre and multi-perspective," focuses on eco and social justice, and offers innovative ideas "about place, sustainability, writing, and art" while stimulating cultural change. CMR is also interested in how contemporary literature tests the boundaries of genre and works to transport readers to new and interesting emotional landscapes. Visit Cold Mountain Review's website to learn more.
Cold Mountain Review publishes poetry, fiction, creative nonfiction, interviews, and visual art. They accept work in August for the Fall Special Issue and in January for the Spring Issue.
Click here to learn more about submitting to Cold Mountain Review.
Appalachian Journal
The Appalachian Journal is an interdisciplinary, peer-reviewed quarterly journal that features interviews, field research, scholarly articles and studies, poetry, and book & film reviews that regard the region of the Appalachian mountains. Topics can include anything from art, anthropology, and literature to ecology, economics, political science, and gender studies - and anywhere in between. As long as the work focuses on the Appalachian region, the discipline and topic can vary widely.
The Appalachian Journal goes for "well-documented, well-developed articles that feature primary source research" as well as photographs and illustrations. Check out the Appalachian Journal's website for more information.
Click here to read about how to submit to Appalachian Journal.
Bonus Tips
Look into Lyric, an on-campus student-run club for uplifting and stimulating the minds of creative and innovative students. A blurb from Lyric's purpose statement: "Lyric is a spoken word poetry club that focuses on writing workshops, story-telling and bonding among poets. We speak out; we are controversial; we are brave. Lyric is open to everyone whether you like to read, write, or just listen to poetry." Lyric Facebook Page
Consider taking the annual seminar course The Rachel Rivers-Coffey Colloquium, which gives more advanced students the opportunity to work with and learn from nationally distinguished authors.
Engage with the Hughlene Bostian Frank Visiting Writers Series, where visiting writers and professors come to Appalachian and give a series of talks about various topics, such as graduate school, writing, publishing, and life after college. These sessions are great for students to engage with professionals possibly from their field, ask questions, listen to invaluable real-world advice, and gain some knowledge and insight into their fields and future careers. Visit ASU English Department's News & Events page to read a few articles about these visitors, including Kayla Rae Whitaker's craft talk.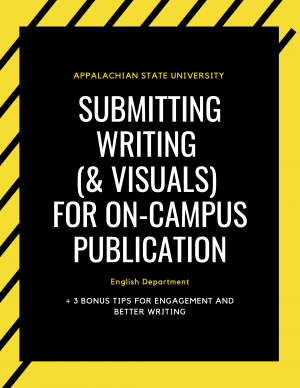 Tags: