Want to know more about the student-run Literature and Arts Review club The Peel? You've come to the right place! This article is a Q & A with next year's Editor-in-Chief for The Peel, Molly Thomas. If you'd like to read more about how to publish through The Peel, read the recent article on Submitting Writing (& Visuals) for On-Campus Publication.
Each of these six questions gives you a unique and personal look into The Peel organization, through the eyes of the upcoming Editor-in-Chief, Molly Thomas.
1) How did you get involved, and advance to Editor-in-Chief, with The Peel?
MT: I became involved in The Peel at the beginning of last school year because I had some free time, and I love reading, writing, and editing. So, participating in the prose committee was a great way to further delve into those areas. Once I became a member of the prose committee, a deep passion grew within me for the organization because I realized that it's more than a student organization; it's a creative community of over 90 members that supports and is supported in return by a beautiful creative student population.
The Peel offers support for creative students in a way that academia often doesn't. Once I became passionate soon after joining, the following semester our head editor at the time, Jordan Edmisten, became the Associate Editor, so the position of Prose Editor became free. I promptly applied, and through an example piece that I edited and an interview with Sadie, the EIC, and Jordan, I was hired as the Prose Editor. I've been serving as the Prose Editor for the past year-and-a-half, and luckily, our Advisor, Jenny, believes in me enough to entrust me with the organization. I couldn't be more honored.
2) How do I get involved with The Peel?
MT: The easiest way to get involved with The Peel is by attending our beginning of the year meeting! At that meeting, all of the new editorial board members introduce themselves to the attendees and present on what their position is as well as what their committee does. Then, everyone breaks off into groups based on what committee they want to be involved in, and then fill out contact information so they can answer a Doodle Poll for meeting times. Other than that, there's no real application process and anyone can join any committee at any point in the semester! Other ways to be involved with The Peel without being on ed-board or in a committee is to attend our events.
We host events centered around spotlighting artists of various mediums every semester. We always do a "Mortified!" event, which is an open mic for embarrassing stories. We also host musical open mics for student singer-songwriters and bands, as well as a Doc Shop to aid artists in properly documenting their mediums! We usually try to host a poetry open mic as well. Our most popular events are Fall and Final Release Parties. The Fall release party normally sees 100+ attendees, while the final release party (which celebrates the drop of our finished website and in-print book) can easily garner the presence of 300-500 people. Last year our final release party was at Hatchet and we easily had 500 people attend throughout the night!
3) What does The Peel value, promote, or encourage?
MT: The Peel values anyone who has ever put pen to paper, hand to brush/kiln/pastel/etc, voice to mic, finger to string. We value the people who appreciate the arts, regardless of if they produce it themselves. We value embracing, promoting, and indulging in students' arts in a meaningful way that makes them feel valued and recognized as the professionals that they are.
4) What is your favorite thing about The Peel?
MT: My favorite thing about The Peel is that it supports and showcases artists in a way that's unparalleled on Appalachian State's campus. Our publication is run by 90+ students who are passionate about thinking critically about prose, poetry, visual art, and music. We have around 1000 pieces submitted to us annually; that's 1000+ artists that trust us with their work. I love contributing to Appalachian's artistic community in any small way that I can, and I love seeing artists be themselves and produce authentically.
5) Does The Peel look for certain themes when reviewing submissions for publishing?
MT: The Peel does not look for certain themes when reviewing work for publishing! This year was the first year that we had a spotlight "theme" – the environment, both personal and global – but it was just a spotlit section. Overall when reviewing work we simply look for good content, something that moves us as a committee, that is executed with thought and intentionality.
6) Why submit to The Peel?
MT: People should submit to The Peel because they'll receive personal invitations to all of our events, and if they go they'll meet some of the coolest and nicest people on campus. They should submit because it's a free opportunity for their work to be published in a professional and nationally-recognized publication. They should submit because art is important, art tells a story, and the more art there is – the more stories that are told.
--
Hopefully this Q & A session helped to answer some of your burning questions regarding student-run organization The Peel, and perhaps even inspired you to become more involved. If you'd like to support The Peel, but don't have the time for committees or submissions, check out and donate or share The Peel's GoFundMe page to help them raise money for their print publications.
For more information check out The Peel's newly relaunched website.
*Responses edited for clarity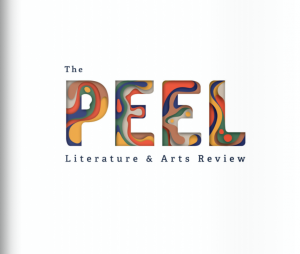 Tags: