Zackary Vernon's edited collection Ecocriticism and the Future of Southern Studies was published last month by Louisiana State University Press. The collection, a product of nearly three years of interdisciplinary collaboration, has seen high praise from various scholars in the field of Southern Studies. William Ferris calls it "an edict nailed to the door of southern studies that challenges the field to embrace manmade environmental issues that threaten our region." Fred Hobson deems the collection "keenly aware of southern environmental precariousness, delivered with a sense of justified urgency." As its provocative title suggests, this collection attempts to bring together two distinct yet intrinsically affiliated fields of Southern Studies and Ecocriticism in order to anticipate the direction ahead for scholarly work produced within both disciplines.
According to Dr. Vernon, the impetus for creating a collection like this stems from the fact that the two fields have remained "largely separate for too long."
The south is an area that has a unique environmental history. It's a part of this country that has largely been used as a sort of internal colony for resource extraction, and it has seen the worst of many environmental disasters, both natural and human-induced.
Ironically, though the physical space of the south has been impacted so egregiously, especially in recent decades, trends in Southern Studies before now have mostly focused on the south as a unique and culturally exceptional space in historical, social, and political spheres. With this collection, Dr. Vernon highlights the need to ensure that the actual, lived space of the south is brought into consideration in a way that has previously been overlooked.
In compiling the collection, Dr. Vernon intentionally collected work from a vast array of scholars in separate fields, beyond his research in literary studies. According to him, "any political impact or 'real-world' impact of a scholarly collection on a topic like climate change needs to come from as many disciplines as possible." The future of Southern Studies can no longer be an imagined future that comes from a monolithic perspective of literature or anthropology or history, but one that works to bring these perspectives together, to put them into conversation with each other. This interdisciplinary approach, at least for Dr. Vernon and like-minded scholars, is crucial if Southern Studies wishes to retain its relevance. Ecocriticism more broadly, as an overarching lens through which to encounter our specific time and space, can encompass other burgeoning scholarly perspectives, such as critical race studies and gender and sexuality studies. For Dr. Vernon, "It's not that ecocriticism supersedes these issues-- it's that those issues can be a part of the conversation as we consider the environment." The future, then, of Ecocriticism and Southern Studies looks to be a future of collaboration, of multiple voices coming together to examine one of the most pressing-- if not the most pressing-- issue of our time.
Looking forward, Dr. Vernon anticipates the impact his collection will have in the academic sphere, and yet agrees with fellow academic Jay Watson's afterword of this compilation: "This is a good start, but it doesn't do nearly enough." Ideally, the future of Southern Studies tempered by ecocriticism, in his view, would include more diverse content and perspectives that reach beyond mostly privileged, white, academic circles. The overarching goal of Dr. Vernon's own professional and personal trajectory maintains a commitment to ensuring that the work done within the field of Southern Studies extends to a broader audience. In studying the space of the south as it is impacted by the impending climate crisis, the inclusion of as many different voices from different places and different generations is crucial. Dr. Vernon emphasizes that "to a certain extent, I think it is the next generation of scholars that will take on these environmental topics" and that this collection serves as a point of departure that will allow new voices to emerge in academic work dedicated to exploring the impacts of climate change on the southern region of the United States.
Credit: Interview by Olivia Buck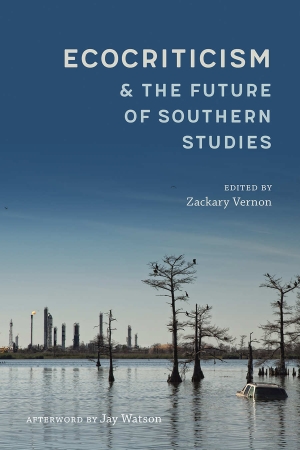 Tags: