Charles Dodd White
Novelist Charles Dodd White
Reading and Craft Talk: Art as Political Activism
Charles Dodd White is the author of four novels, including two from Ohio University Press/Swallow Press: How Fire Runs and In the House of Wilderness. He has received the Appalachian Book of the Year Award and the Chaffin Award for his fiction. He lives in Knoxville, Tennessee, where he is an associate professor of English at Pellissippi State Community College.

How Fire Runs: A Novel
Set in rural Appalachia and told through the voices of three different present-day narrators, this harrowing novel about white supremacists attempting to take over a small town focuses an unflinching eye on America's ongoing, fraught relationship with racial and political injustice. How Fire Runs was selected as a Fall 2020 "Okra Pick" by the Southern Independent Booksellers Alliance (SIBA).
"I've always preferred the idea of writing about what bothers you. That's what I tried to do with this novel. It's a terrible truth that some of the most beautiful parts of the country are still struggling to wake up from the nightmare of violent racism." - Charles Dodd White
"Both action-packed and introspective, How Fire Runs is a timely literary thriller that is hard to put down. Charles Dodd White continues to prove himself as one of the best prose stylists of Appalachian literature in a novel that transcends region to become raw commentary on this volatile moment in America." --Silas House, author of Southernmost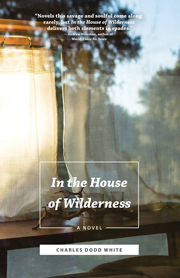 In the House of Wilderness: A Novel
After months of wandering homeless through the landscape of Appalachia, a young woman named Rain finds herself part of a desperate family driven by exploitation and abuse. A harrowing story of choice and sacrifice, In the House of Wilderness is a novel about the modern South and how we fight through hardship and grief to find a way home.
Appalachian State Library Guide to the Spring 2021 Visiting Writer Series Authors