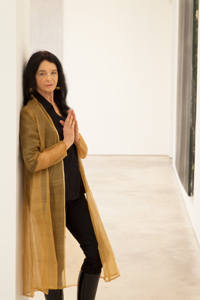 Anne Waldman is a poet, performer, professor, editor, cultural activist, and co-founder with Allen Ginsberg of the Jack Kerouac School of Disembodied Poetics at Naropa University. She also directed The Poetry Project in New York , which she helped found in 1966. She is the author of over forty books of poetry, including the book-length hybrid narrative poem Manatee/Humanity (Penguin Poets, 2009) and the feminist epic The Iovis Trilogy: Colors in the Mechanism of Concealment (Coffee House, 2011), which is the winner of the 2012 PEN Center USA Award for Poetry. Other recent books include Gossamurmur (Penguin Poets, 2013), Jaguar Harmonics (Post Apollo Press, 2014), and Cross Worlds: Transcultural Poetics (Coffee House, 2014), an anthology co-edited with Laura Wright. Her most recent books are Voice's Daughter of a Heart Yet To Be Born (Coffee House, 2016) and Fantastic Caryatids with Vincent Katz (Blaze Vox, 2017). Waldman is the recipient of the Shelley Memorial Award and a Guggenheim Fellowship and is a former Chancellor of The Academy of American Poets. She is a frequent collaborator with poets, dancers, musicians, and visual artists and performs in festivals around the world. She is the founder with Ambrose Bye and Devin Brahja Waldman of the Fast Speaking Music jazz and poetry label, which has issued more than than 25 albums. She recently received the American Book Award from the Before Columbus Foundation for lifetime achievement. She curated the Voz Alta poetry performance festival at Casa del Lago in Mexico City in 2017, which included participants Coral Bracho ofMexico, La Tasha Diggs of the USA, Raul Zurita of Chile, Guillermo Gomez Pena of Mexico/USA, and Thurston Moore of the US and UK. She was the keynote speaker at the Jaipur Literature Festival in India in 2017. Her new book, Trickster Feminism, will be published by Penguin Poets in 2018. Photo Credits: Nina Subin
Thursday, March 22
Poet
ANNE WALDMAN
READING:
7:30 P.M.
Table Rock Room, Plemmons Student Union
CRAFT TALK:
The Creative Rhizome: Generative Practices in Art & Life
Time: 3:30-4:45
Table Rock Room
(faculty host: Joseph Bathanti)
Book sales and signing will follow each event. Admission is free.
PARKING is free on campus after 5 p.m. We recommend the Library Parking Deck on College Street (from King Street, turn down College Street at the First Baptist Church). To reach the Student Union, cross College Street and follow the walkway between the chiller plant and the University Bookstore, passing the Post Office and entering the Student Union on the second floor. For further parking information or a map, please see parking.appstate.edu.
For further information on the Spring 2018 season, please email weinbergsc@ appstate.edu. Facebook: appstatevisitingwriters. Website: visitingwriters.appstate.edu.
THE VISITING WRITERS SERIES is named in honor of Hughlene Bostian Frank (class of 1968), a 2013 Appalachian Alumni Association Outstanding Service award recipient, past member of Appalachian's Board of Trustees, current board member of the ASU Foundation, and generous supporter of Appalachian State University.
THE SPRING 2018 HUGHLENE BOSTIAN FRANK VISITING WRITERS SERIES IS SUPPORTED BY:
Appalachian State University Foundation, Inc.
Appalachian's Office of Academic Affairs
College of Arts and Sciences
Department of English
Office of Multicultural Student Development
University Bookstore
Belk Library
Appalachian Journal
BUSINESS SPONSORS:
The Gideon Ridge Inn
The Red Onion Restaurant
The New Public House & Hotel
COMMUNITY SPONSORS:
John and the late Margie Idol
Paul and Judy Tobin
Alice Naylor
Thomas McLaughlin
In Partnership with the Black Mountain College Semester: