Poet Annie Woodford is one of the most passionate and thorough interviewees I have had the pleasure of corresponding with. Throughout our conversation, I could tell she enjoys spreading her love and respect for poetry as much as she does writing it. Poetry and Appalachian life really came through as essential parts of Woodford's being, her stories of growing up and being inspired by life experiences making me want to read and reread every one. I am super excited to share this interview, which is linked to at the end of this post for you all to read!
Annie Woodford is a poet from Bassett, Virginia, who now lives in Deep Gap, North Carolina. She is the author of Bootleg, a collection of poems that are inspired by Charlie Poole, a famous banjo player and lead of his band the North Carolina Ramblers. Bootleg, published in 2019, is a finalist for the Weatherford Award for Appalachian Poetry. A lot of her poetry has been published in multiple online and printed magazines and journals, such as Blackbird and Terrain.org. She has an upcoming book titled Where You Come From Is Gone, which is the recipient of the Adrienne Bond Poetry Award from Mercer University Press, expected to be published later this year 2022. Woodford is also an instructor in English at Wilkes Community College in Wilkesboro, North Carolina.
To start the interview, I asked Woodford about who or what inspired her to become a poet in the first place. Woodford cited multiple books she came across at a young age as influencing her decision to write poetry. She mentioned the literature textbook her mother had as a community college student and how she had been fascinated by her mother's annotations. She referenced 101 Famous Poems and connected it to a quote from T.S. Elliot that she found later in life which resonated deeply with her as a reader: "Genuine poetry can communicate before it's understood." Going through college, Woodford was lucky to have writers as professors who encouraged her to embrace her southern-ness and to use it as her voice. She made it quite clear that she wants her students to have similar encouraging experiences with books, family members, and educators that will shape what they do in the future.
Woodford has an immense respect and connection with the Appalachian region—its people, culture, history, and the nature found within it. This can be seen in the storytelling found in her poetry, the times she has written about her poems, and in her answers. I was struck the most by how she addresses issues that the region faces, having told me,
" It is a humbling thing to look at Deep Appalachia, the coal mining areas in WV, SWVA, KY, on Google maps, and see the moonscape we have created. I try to work that into my classes. People need to look at that and contemplate what it means to lose a mountain, bury a stream."
It is something that Woodford contemplates often, and the reader is made to do the same on practically every line. Woodford challenges us to face what has and is still happening in Appalachia, and further challenges us to find and maintain the beauty in it.
Annie Woodford will be giving a craft talk Thursday, March 24 for our Visiting Writers Series. Click here to see her VWS page, and click here if you are interested in reading my full interview with her!
Written by: Benjamin Rivers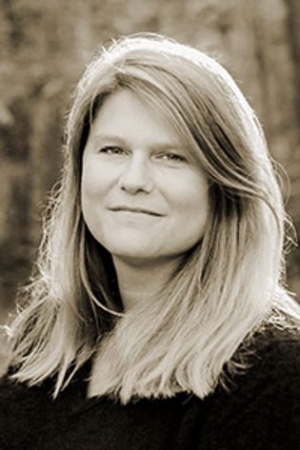 Tags: