The Dr. Rosemary Horowitz Memorial Scholarship was established to honor the legacy created by Dr. Rosemary Horowitz in the field of technical and professional writing in the ASU English Department as well as her foundational work in Judaic and Holocaust studies at Appalachian State University.
As a faculty member of Appalachian State University for over 25 years, Dr. Horowitz was a profound force in the English Department and on the App State campus. She promoted the study of technical writing and professional writing through her personal experience of the business world in NYC. Dr. Horowitz also served as the Director of the Center for Judaic, Holocaust and Peace Studies, and worked closely with the Holocaust Memorial Museum in Washington, DC and the YIVO Institute for Jewish Research in New York City.
Dr. Horowitz's parents were Holocaust survivors who immigrated to the Northeastern region of the United States. She attended Brooklyn College in New York and received her undergraduate degree in English. After several years working as a writer and editor, she enrolled in a doctoral program at University of Massachusetts, where she earned her MA and Ed.D. in literacy studies. Her advanced degree allowed her to work more broadly on translating the Yizkor books that document the history of Jewish communities destroyed in the Holocaust.
Being a first generation college student, Horowitz understood the financial burden of college. She was able to attend Brooklyn College only because it was tuition free at the time. The scholarship created in Dr. Horowitz's honor considers financial need and provides $1,000.00 per year to a student majoring in English. The scholarship is also meant to recognize students who demonstrate civic-minded commitment to community service, something that was critically important to Dr. Horowitz.
Dr. Horowitz's sudden death in 2021 was a great loss for the English Department and for the university. As Dr. Kristina Groover noted, "She was a renowned scholar, a devoted teacher, and a wonderful colleague and friend." Dr. Rosemary Horowitz made a lasting impact on Appalachian State's community, and in honoring her legacy, this scholarship was made possible through donations and fundraising by Dr. Jill Ehnenn, Dr. Elaine O'Quinn, Dr. Kristina Groover, and Dr. Susan Staub. As Dr. O'Quinn noted:
"While our original initial intention creating the Rosemary Horowitz Scholarship was to honor a lost colleague, we also considered the kind of scholarship Rosemary would have wanted. She would have definitely been happy to know a student was given financial help in her name for all the reasons outlined that speak to her own life history."
Caroline Kuhn, the 2022 recipient of the Dr. Rosemary Horowitz Memorial Scholarship, wrote:
"The Rosemary Horowitz Scholarship is one of the main reasons I can study abroad in Spain this semester. I'm very grateful that I am able to continue Dr. Horowitz's legacy of studying and practicing ethics when writing. I intend to use my Professional Writing and Spanish majors to become an immigration lawyer and support clients from underrepresented communities. This scholarship grants me the opportunity to take classes based on writing ethically and supporting my community by developing a global perspective. I will be forever grateful for the doors opened to me by this scholarship."
A scholarship like this relies on ongoing donations. The importance of supporting scholarships such as this one is emphasized by Drs. O'Quinn and Groover, respectively:
"Scholarships like the one in Rosemary's name can create a more equitable opportunity for someone financially underrepresented at the university. Even a small scholarship can help fill a monetary gap, and for some students it may make it more possible to stay in college,"

"We hope to create an enduring legacy for Dr. Horowitz, and we invite members of the Appalachian community and beyond to consider a one-time or recurring gift that will continue to recognize Rosemary's legacy for years to come."
You may use this link to designate your gift: Rosemary Horowitz Memorial Scholarship
Alternatively, you may write a check payable to Appalachian State University Foundation, Inc., and send it through the mail to Advancement Services, ASU Box 32014; please be sure to write Rosemary Horowitz Memorial Scholarship on the subject line.
Written by Tyler McDonald
Image Credit: Center for Judaic, Holocaust and Peace Studies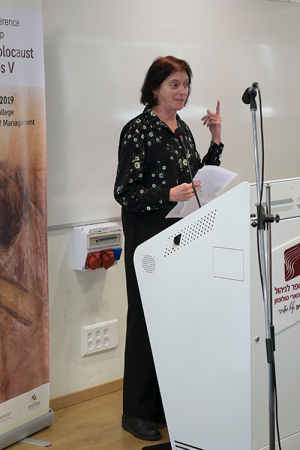 Tags: