Advanced Folklore is an in-depth study, which includes fieldwork, of one or more folklore genres and their application in literature and in the contexts of Appalachian, African American and Native American cultural communities and their presentation for the public. In addition to knowledge of multicultural global roots, and interdisciplinary methods drawn from the humanities and social sciences, students will have opportunities to conduct original field research cutting across disciplinary and theoretical approaches. This semester will focus upon traditional music, as well as foodways and folklore's transformation into literature. Course may be repeated if content varies.
Papers include 1) Evaluation of a traditional CD. 2) Analysis of ballad singer Sheila Kay Adams' novel My Old True Love. 3) Create historical listening CD or analyze another novel TBA and 4) Collecting project and paper with one of our visiting or zoomed traditional musicians or tradition bearers.
NOTE: The Libba Cotten Festival Poster is an example of opportunities available to students through this course. Students who play music, who would like to produce traditional concerts, and those interested in the history of Appalachian tradition music are invited to join the class. This particular concert included NEA Heritage Fellow Guitar Maker and Player from the biography Clapton's Guitar: Watching Wayne Henderson Build the Perfect Instrument. Our public concert will probably have to be on-line with zoom, and we hope it will be engaging.
ENG 4810/5710: Advanced Folklore - Professor Cece Conway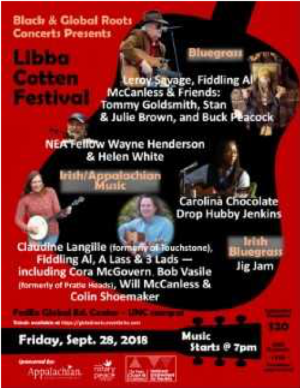 Tags: