On September 22, Savannah Sipple joined us as part of our Visiting Writers Series for a conversation about finding oneself as a writer and to read from her book, WWJD and Other Poems. Sipple began her conversation by engaging in questions about writing styles and vocalizing the empowering advice of writing down personal truths, which she credits to Ernest Hemingway.
Sipple credited many authors when discussing the hardships of finding herself as a writer, mentioning Adrienne Rich, Audre Lorde, and Roxane Gay. She also credited Danez Smith, reading his poem "Dinosaurs in the Hood." She advised those attending to use that poem as an outline for creating a 'personal truth poem,' and that it can be an amazing exercise when dealing with writers' block. She commented on her focus on personal truth when writing her book:
"I wanted my truths to be rooted in Appalachia. I wanted my truths to be rooted in the fact that I'm queer."
During her Craft Talk, Sipple also read two unpublished persona poems: "Calamity Jane Informs Wild Bill of His Faults while Visiting His Grave" and "A Wife Explains Why She Likes the Country." These persona poems show strong voices, characteristics, and time-specific descriptions that Sipple urges writers to try while they find their voice. While she had written the collection of persona poems with the intention of publishing them in book-form, she decided not to publish any of them, and to put a fresh spin on her truths, resulting in her book WWJD and Other Poems.
Before exiting the Craft Talk, Sipple gave one last piece of advice to those in attendance:
"If you want to be courageous, if you want to find your voice and use it, you must be deliberate."
Written by Kaylee Patterson.
Image credit: Rebecca Dayle Ashby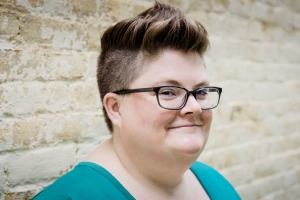 Tags: