Peaches Hash and the Fulbright TEA Program
For almost two months, the Fulbright TEA (Teachers Excellence and Achievement Program) brought dozens of teachers from around the world to Boone in order to engage with and learn new teaching strategies. A part of the government-run Fulbright program, TEA helps send teachers to other parts of the world for the opportunity to observe different pedagogical methods. Professor Peaches Hash, who teaches RC 1000 and 2001 courses here in the English department, had the opportunity to mentor two other teachers, being their guide around Boone while also engaging with them academically. She had gone on her own Fulbright trip this past summer in Indonesia, and welcomed the chance to help give the incredible experience she had to someone else.
Hash received the opportunity to lead her own session for the visiting teachers, where she shared her ideas on the use of expressive arts in relation to other subjects, including how it functions in her RC 1000 and 2001 courses. Throughout her own teaching career at both the high school and collegiate levels, she has prompted her students to create art works to help them compose ideas. Hash says that when she evaluates her student's art, "I don't grade them on how good it is. I just say, 'Do some art.'" Most of her students end up loving the assignment, and Hash explains that "[s]tudents will often tell me [that] they spent six or seven hours on their project," and "[...] they often tell me it's relaxing." One of her 2001 students, Ally Finley, an Elementary Education major, even volunteered to help run the workshop and share her experiences with creating and interacting with art.
In her workshop, Hash shared these ideas with the visiting teachers and, to her delight, they embraced it readily. In fact, many of the teachers said that they had considered using art in their classes before, but lacked any concrete methodology with which to do so. By creating their own art and sharing it with each other, they each thought of their own ways to begin the process of incorporating art in the classroom. Overall, Hash was joyful at how well her own workshop went and how much the Fullbright participants seemed to enjoy their experiences.
In photos: Fatma Tamimi, Natavan Gojayeva, Gloria Rojas, Majida Dmour, Sudha Prasad, and student Ally Finley- elementary education major.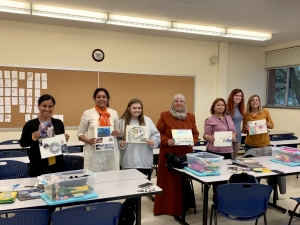 Tags: