We are pleased to announce our new hire in World Literature, Dr. Anna Muenchrath.
Dr. Anna Muenchrath comes to Appalachian as a visiting assistant professor in world literature. She completed her PhD in the Department of English at the University of Wisconsin-Madison where she taught world literature and introductory writing courses. Her dissertation, "Becoming World Literature," argues that the acts of selection of editors, anthologists, translators, and institutions alter the contours of what we think of as world literature. Paying attention to these acts allows us to redefine the "world" of world literature from a globalized, spatial category to an intersubjective network of authors, readers, and literary producers. The study pays special attention to the ways that editors, translators, and institutions frame their linguistic and cultural translations of authors and texts with regard to categories such as race, nation, and gender. It addresses the selection criteria of various institutions throughout the twentieth century, including the changing U.S. world literature anthologies, the Harlem Renaissance, poetry anthologies in translation produced in Weimar Germany, the U.S. Armed Services Editions—which circulated literature to American soldiers around the globe during World War II, and the International Writing Program at the University of Iowa. Her research interests include theories of world literature, print culture, book history, network and political theory, as well as translation, media, and institution studies.
Anna's teaching goal is to help students realize that they are active participants in an ongoing discussion about the individual and her relationship to her community, nation, and the world that is both universal and culturally and historically specific, and that whose narratives get told, how they are read, and who reads them determines the shape of the world we live in. Her conviction that writing and reading are social and communal acts is reflected in her classroom structure, which is always interactive and collaborative.
Credits: written by William Atkinson, photo supplied by Anna Muenchrath.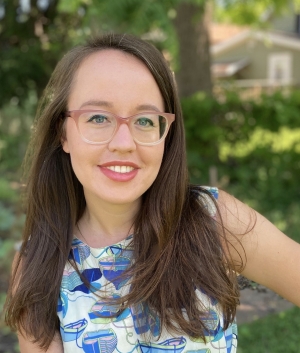 Tags: