We are pleased to announce that Savannah Paige Murray will be joining our department in the fall as a Visiting Assistant Professor in Rhetoric and Writing Studies. She is a Ph.D. candidate in Rhetoric and Writing in the Department of English at Virginia Tech University with an expected graduation date of December 2020. Her dissertation, entitled Grassroots Along the Upper French Broad: Public Participation, Democratic Deliberation, and Environmental Rhetoric, explores a specific case study in which local farmers and retired factory workers in western North Carolina in the late 1960s successfully opposed and prevented the implementation of fourteen catastrophic dams on the French Broad River. This dam project would have displaced more than 600 families, flooding nearly 20,000 acres of fertile agricultural land and 74 miles of streams. Based on extensive archival research and oral histories, Savannah's research highlights several key findings: (1) the ways in which commons environmental rhetoric invites a more collaborative, inclusive, and equitable form of environmental activism, (2) the value of engaging in rhetorical citizenship as a means for creating additional avenues for deliberation, and (3) how building ethos around community members' local knowledge can help marginalized groups push back against the hegemony of technocratic expertise. This research ultimately offers insights that can help students further develop as active, engaged citizens in their communities and emphasize the value in studying cases from the past through the archives. Keenly interested in the digital humanities, Savannah has created a documentary and online archive of her research, entitled "The Dam Fighters."
Savannah's Ph.D. dissertation builds upon years of interest in environmental activism; she holds a BA in History and a BS in Environmental Studies from Wofford College, where her undergraduate thesis focused on the Tennessee Valley Authority. Her master's thesis at Appalachian State University provided an in-depth ecocritical reading of Appalachian fiction writer John Ehle. While in the MA program in Appalachian Studies here at ASU, Savannah also served as the Assistant Editor of Appalachian Journal under Dr. Sandy Ballard. Her work has been published or is forthcoming in Appalachian Curator, Appalachian Ecocriticism (West Virginia UP), Appalachian Journal, Journal of Appalachian Studies, Journal of East Tennessee History, Lost in Transition (U of Tennessee P), North Carolina Literary Review, and elsewhere.
In addition to her ambitious research, Savannah brings to ASU a wealth of teaching and administrative experience. While at Virginia Tech, she served as the Assistant Director of the Writing Center and earned a graduate certificate in "Preparing the Future Professoriate." Savannah also earned a graduate certificate in "Online Teaching" at the National Humanities Center's Graduate Student Summer Residency. At ASU, she will contribute to our rhetoric and writing curriculum in significant ways, including teaching and developing courses in rhetorical theory, composition, digital humanities, business writing, technical and professional writing, and editing.
Please welcome our new colleague, Savannah.
Credits: Text by Rosemary Horowitz and Zackary Vernon, photo supplied by Savannah Paige Murray.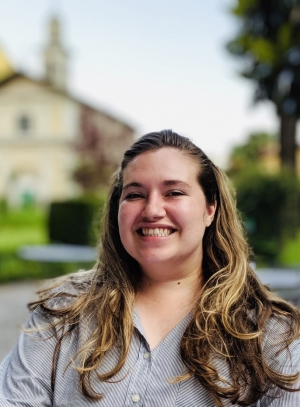 Tags: