The Appalachian State University English Department has a new scholarship commemorating Professor David Hodgin. For more details on the current David Hodgin English Award Competition, check out the flyer here.
Maxine McCall, an Appalachian State alumna from our program, is most vital to the creation of this competition as she made a generous donation to commemorate Dr. Hodgin and his work.
Dr. David Hodgin was an English Professor in the Appalachian State Teachers College for 24 years (1941-1965). He taught a variety of courses in literature, speech, advanced composition, and oral interpretation; he also wrote and produced several plays as part of the Appalachian Playcrafters group, as well as acted in a few Playcrafter productions. Dr. Hodgin retired professor emeritus in 1965 and remained active in his retirement as a leader in literature and writing by influencing teachers, speaking to book clubs and organizations, writing to editors, and volunteering until his death in 1984. There is a special collection in Belk Library called the David Reid Hodgin Papers that includes notes and clippings related to him, his work, and his areas of interest, including essays and plays. You can read more about his life and his work here.
Maxine McCall worked with Dr. Hodgin when she was a student at Appalachian in the English department, which at the time was very focused on teaching and teacher preparation. At the same time that McCall was working with Dr. Hodgin, she also worked with his wife, Allie, a reference librarian in Appalachian's library.
McCall shared that working with the two was a "very interesting and rewarding experience" that she greatly enjoyed and that both Dr. Hodgin and his wife were "brilliant, very sharp" people. However, she recalls that at first, when the then English Department Chair, Dr. Graydon Eggers, first told her that she'd be working as Dr. Hodgin's assistant, she thought, "Oh my word, I'm going to the lion's den!," because as a professor he was known to be "very demanding," and didn't waste time with lazy students.
"When Dr. Eggers said where I was going to go for my assistantship, I thought, 'Oh dear' but then [Dr. Hodgin] turned out to be a delightful person to work for; he was kind, very gracious...and deeply philosophical...with a sense of humor that he didn't often show in class."
McCall, who was also in one of Dr. Hodgin's writing classes at the time, quickly found him to be an excellent Professor to work with, and states that he was "obviously well-read." In fact, upon first meeting in September with Dr. Hodgin regarding her assistantship, McCall remembers that he gave her, as her first assignment, a nearly two-inch-thick stack of notecards to file that had all of the books he had read that year. The cordial relationship that McCall built with Dr. Hodgin and his wife, while "totally unexpected," ended up being quite lasting as they exchanged letters and Christmas cards well into the Hodgins' later years.
Despite this long relationship, McCall only recently found out about Dr. Hodgin's background in drama, that he had written plays and worked with Playcrafters before her four years as an active member of that group while she was in school. McCall remembers that in her junior year Appalachian did a production of The Crucible and that Dr. Hodgin played Judge Danforth. She says his performance was "Broadway quality, absolutely stunning" and that she thought at the time, "anyone watching this play is going to get a whole different view of who you are."
"His more extensive involvement in drama surprised me, until I recalled how amazed and captivated I was when he played that role of Danforth. I was stunned, and I'm sure the audience was too; he was absolutely phenomenal, just brilliant."
Today McCall is herself a writer, a published author with eight books to her credit, She says that her time with Dr. Hodgin and her theatrical training at ASU stood her in good stead when, as a high school English teacher, she served one school as Yearbook advisor; directed school/community theatre productions in another; and, later, as an administrator responsible for curriculum development and teacher training, helped shape a curriculum for Grades K-12 that included strong emphasis on writing and theatre. Just as Dr. Hodgin encouraged McCall to write, learn, and act, she has likewise inspired others through her classroom and theatre instruction. McCall continues this gift to the educational community through her generous donations, her work with educational and community foundations, and her seat on the new advisory board for ASU's Theatre & Dance Department.
The David Hodgin English Award includes a $700 scholarship; as there is both a poetry and a prose category for the literary competition, the winner of each will be awarded $350 for their accomplishment and their respective winning literary works will be published on the website of the Cold Mountain Review literary journal.
This competition was created with the purpose of building community within the English department, and each year the prompt will reflect this by presenting a topic that the community can address.
This year, the prompt addresses the recent changes that the COVID-19 pandemic has brought about and asks community members to consider its revelations and impacts on society. To read more about the prompt and how to enter, check out the attached flyer.
English Department Chair Dr. Leo Flores states of the competition prompt:
"I wanted it to be topical...it's a topic that may change year by year, but basically the goal is to address a topic of interest to the community."
Dr. Flores worked with Justin Lovan, Student Representative for Creative Writing, on the planning and production of the David Hodgin English Award competition. Lovan helped to develop the prompt and guidelines for the competition and was responsible for contacting and collaborating with Cold Mountain Review for the online publication opportunity. Lovan also came up with the idea of a writing competition with the group of student representatives; he explains:
"We wanted to provide a writing contest that wasn't intimidating to enter into. Entering a writing competition can be scary for some, as it is the first time they are being judged on their work. I wanted to provide one that could be a way of practice for some, a way to gain experience and confidence."
Lovan hopes that this award will provide another channel for English department students to "experience competition in writing form" and that it will celebrate and encourage student's creative work in the future.
Many thanks to Dr. Flores, Justin Lovan, and the student representatives for their dedication to the development of the David Hodgin English Award and competition, and especially to Maxine McCall for making this award possible with the App State English Department.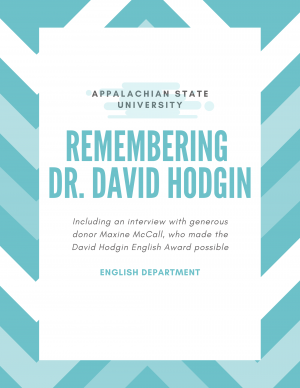 Tags: