This year, I have assembled a team of student representatives, one in each program or concentration, to better integrate student input, needs, and perspectives into the workings of the department.
Undergraduate Representatives

I'm a sophomore, which means I haven't met many English majors, but I look forward to meeting more and getting to partake in creating the best environment to grow. I am a part of the SSS program, which is for first generation students, something I am very proud of. I am currently in professional writing with a Spanish minor. I recently joined the HSA club (Hispanic Student Association) and encourage others to do as well. Ultimately, I want to learn more from others. I'm excited to get started, let's build up our English community!
I'm a double concentration English major in Film Studies and Creative Writing, with a minor in Psychology. I enjoy writing short stories, and have plans to bring to fruition a children's series about inclusivity in the future. I spend most of my time at home reading, watching Netflix or napping with my cat Moon. You can also find me at work, managing the Jimmy Johns on King Street. My favorite novel is The Martian by Andy Weir or The Autobiography of a Corpse by Sigizmund Krzhizhanovsky; and my favorite films are anything by Wes Anderson or Christopher Nolan.
Hello! My name is Justin Lovan and I am a senior at Appalachian State. I am currently an intern under Dr. Flores along with being a Student Representative for the English Department. Along with that, I am the cofounder and President of the Hiking club on campus. I love to be outdoors hiking and traveling as much as possible. I look forward to a wonderful and successful year!
I'm currently a senior majoring in English with a concentration in Literary Studies. I'm in the English Honors College and gearing up to write my thesis on Ernest Hemingway in the spring of 2020. I'm excited to get to work as a student representative because I truly believe the Student Body of the English Department has a huge potential for growth and I hope to bring our community closer together through communication and collaboration.
Olivia Buck - Graduate Student Representative
I'm a second-year graduate student in the English Department at Appalachian State University. My scholarly interests include critical theory, post-colonial literature, and gender studies.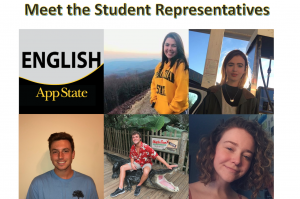 Tags: