Cayleigh Brown
My name is Cayleigh Brown and I'm from Charlotte, North Carolina. I'm a sophomore majoring in English with a concentration in Creative Writing and minoring in New Media and Digital Cultures. I am also this year's Poetry Editor of our Literature and Arts Review, The Peel. I am honored to be representing the creative writing program because of how it has reassured my decision to choose a career in the creative field. I will be inclusive, communicative, and collaborative while also building up our community on campus!
Gabby Brown
Hey! My name is Gabby Brown and I'm your Professional Writing representative. I'm from Raleigh, NC and I'm currently a junior at App. My major is English with a concentration in Professional Writing, with a minor in Spanish. As your representative for Professional Writing, I hope to accurately represent the student body along with its questions and concerns. I'm so thankful for the opportunity to be a voice for English Majors within our department. If you have any questions, concerns, or ideas please feel free to email me at browngg@appstate.edu.
Damian Emory
I am Damian Emory, the graduate student representative. I am from a small commercial fishing town from the Outer Banks of NC. I got my undergrad degree in English: Literary Studies with a minor in Chinese from Appalachian State, having graduated in May of 2019. Ultimately, my priority as the graduate representative is to ensure clear communication between the cohort and faculty in order to work through any problems that arise or that have not been solved yet.
Emily Hutchens
I am from Mount Airy, North Carolina. I will double-major with a B.S. in Criminal Justice and a Literary Studies degree. With my education, my long term goal is to improve the criminal justice system. Something about me is my favorite musician is Bob Dylan and my favorite literary artist is Flannery O'Connor. I am extremely excited to be representing Literary Study majors. I would love to voice all of your opinions, so feel free to reach out to me at any time.
Morgan Knight
My name is Morgan Knight and I'm from South Florida. I'm an English w/Film Studies major and Media Studies minor. I hope to make my own documentaries one day. As a student rep, I want to be able to help students voice their opinions and feelings to faculty. I think a Student rep is a good form of connection between students and professors and faculty when it comes to change.
Aayanah McCreary
My name is Aayanah McCreary. I'm from Fuquay-Varina and I'm your diversity and inclusion student rep! I'm an English Major with a concentration in film studies, I'm also a double minor in Japanese and media studies. I look forward to bringing about change in the English department and speaking up for all of you!
(On the right side)
Candace Myers
I am a Secondary English Education Major from High Point, North Carolina who is currently a second-year senior. Being a student representative is an incredible opportunity to make positive changes within the English department, which is why I decided to be a part of this group. I'm also looking forward to being an advocate for not only the community within my major but the departmental community as a whole. As a future English teacher, my job will be to learn and to help tell the stories of my students, so I look forward to doing the same for this community.
Bios and photos provided by Student Representatives.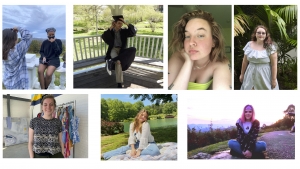 Tags: