A few weeks ago, Dr. Bethany Mannon sat down with me to talk about her experience at Appalachian State as a Visiting Assistant Professor. Mannon began her studies at University of Connecticut and received her undergraduate degree in English. She then earned a Master's and a PhD in English at Penn State. Her desire to work in university education led her to pursue a position in an admissions office at a large school, where she handled students' applications and admissions decisions, beginning her love of the academic field. After graduate school, she began working in scholarly editing as a researcher for the Hemingway Letters Project.
She went on to teach at Old Dominion University in Norfolk, Virginia and has now joined us in the Fall of 2018 as a Visiting Assistant Professor. She is currently teaching sections of RC 1001, RC 2001, a graduate seminar and has recently become the Assistant Director of Rhetoric and Composition. Her love for small towns, beautiful nature, and having the ability to teach a classroom full of eager students makes Appalachian State the perfect home for her.
She is currently exploring her interest in rhetoric with a research study examining the connection between religion and rhetorical composition with the help of her undergraduate research assistant, Georgia Privott. Through this research, Dr. Mannon hopes to study the link between education and how students connect their religious background with their studies in college, but more specifically, in rhetoric and composition during their freshman year.
"People with religious backgrounds have a sense that there is more going on in the world than you see on the surface, and that is what rhetoric boils down to: what is going on under the surface of a text."
She is interviewing all ages of college students and is curious how they take the skills they learned in religion and apply them to reading, writing and composition. If you would like to contribute to her study, please contact her at mannonbo@appstate.edu.
Written by Justin Lovan, photo provided by Bethany Mannon.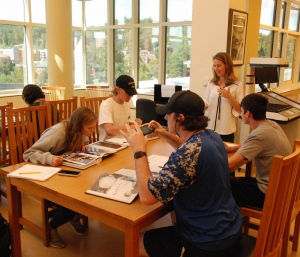 Tags: