Coming off from the success of his first novel, Treeborne, Visiting Professor Caleb Johnson is thrilled to continue maturing his craft through teaching and mentoring in our department. He started his career in journalism, which he considered the best way to do what he felt he was best at, but he decided to change career paths and earned an M.F.A. in creative writing at the University of Wyoming to become a fiction writer.
His desire to write fiction comes from his rural hometown in Alabama, because he could write about working-class people that don't always get proper representation. Johnson spent about 7 years working on Treeborne, which came out in 2018 and has since received widespread praise, including an Honorable Mention for the 2019 Southern Book Prize. Not only does Treeborne give voice to the working-class people of Johnson's childhood, but it's a novel that thematically illustrates the importance of continuing tradition and passing down stories through generations of families. Considering Johnson's work not only focuses on story-telling, but also the writing process, he's a perfect fit as a visiting professor.
He's currently teaching several introductory level fiction classes, one advanced fiction class, and a Senior Seminar called "Literary-Genre Fiction." One common goal Jonhson has for all of his students, is to help them understand that the writing process isn't a formula, but works different for everybody. Early in the semester, Johnson provides students with low-stakes writing assignments that help them to experiment with the writing process and figure out what works best for them. Johnson looks forward to showing students how personal the writing process can be:
I think a lot of times in school when you're taught to write you're given these one-size-fits-all solutions on how to write, and in a creative writing class we don't have to be handcuffed by that and we can say okay the writing process isn't just this one thing, yes there are steps we all go through, but how you move through those steps is really personal.
His senior seminar, "Literary-Genre Fiction," focuses on analyzing books that "straddle the line" between what's literary, and what's genre-writing. Johnson wants students to rethink what we learn in classrooms, and focus on the writing craft, even if genre-writing isn't considered "classroom literature." Once getting past the label of "what literature is," students can focus on the craft and style of writers, ultimately learning how to write any type of story they want,
Before I left, Johnson said he's seen great work from students thus far and looks forward to working with young writers through next semester. He said he learns something new every day, and teaching is even helping his own craft, as he serves as a "part-editor part-professor," here at Appalachian State.
Written by Nathan Plybon, photo by Nathan Plybon.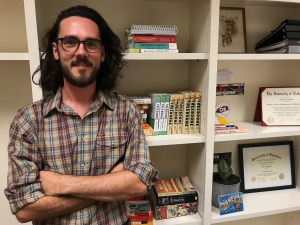 Tags: