I recently had the pleasure of speaking to our English Department Chair, Dr. Leonardo Flores, about Antología Lit(e)Lat, a newly published anthology of Latin American electronic literature that he co-edited.
Electronic literature is a writing form that can only be viewed or created digitally. This covers a lot of ground and encompasses everything from letters that look like they're exercising, to 50,000 word novels generated through computation.
Dr. Flores' interest in electronic literature stemmed from his interest in literature, programming, comics, and film. "My Master's thesis was on comics. I was fascinated by the expressive potential of images and text working together." He was introduced to electronic literature as a Phd student, "and suddenly I could see programming, images, text, interactivity. Everything came together in electronic literature and it just clicked." As Dr. Flores explains,

"This field has been developing for a while now. There are organizations like the Electronic Literature Organization (ELO) and the Latin American Electronic Literature Network (Lit(e)Lat), there are magazines, and publications of electronic literature. We have communities, Facebook groups and Twitter hashtags, and we're connecting with each other. We go to conferences, we share, we have exhibitions. People are constantly curating, discovering, sharing."
Antología Lit(e)Lat is the first anthology of its kind to focus on Latin America and the Caribbean. Dr. Flores and his co-editors publicized an open call for submissions and researched historical works for inclusion in the anthology. They hope that this anthology will allow others to discover these wonderful pieces without having to search the internet for a phenomenon that is often not well documented or identified clearly as electronic literature.
There are plans for a second volume of this anthology, and Dr. Flores will be taking a step back from the editorial team, explaining that "part of the idea is to give the chance to other people to share their vision. Right now what we need to get some people who have connections to other resources, can reach other audiences, and put together a more contemporary volume, since the first one needed to be more historical in focus. The idea is every 2-3 years Lit(e)Lat will publish a new volume edited by a new team, and so the Anthology renews itself and continues documenting this work."
The Lit(e)Lat Anthology "has been a hit since it came out." It's already being used in college courses, and has been nominated for the 2020 Digital Humanities Awards and the Electronic Literature Organization's N. Katherine Hayles Award.
If you haven't already, check out Antología Lit(e)Lat! And don't be shy about using Google Translate, as most of the pieces are in Spanish.
Written by Brendan Doering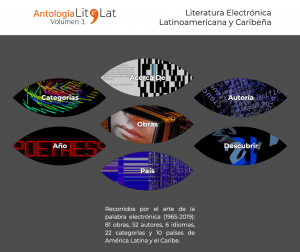 Tags: