Ashleigh Bryant Phillips was our second guest in our Fall 2021 Hughlene Bostian Visiting Writers Series. She read from her debut novel, Sleepovers, which brings vibrant life to its characters set in rural North Carolina. She read the chapter titled "The Virgin," in which the main character imagines a romantic relationship with the employee fixing her iPhone to tame her loneliness. Details are so embedded and intricate in her writing that it compels the audience to identify with the feeling of wanting to belong. Ashleigh Bryant Phillips' Southern accent shone through, allowing these characters to speak through her voice, understanding their hopes, frustrations, and fantasies.
She also read "The Truth About Miss Katie," narrated by a child who admires her art teacher. Images of sanitary pads, paper-mache breasts, and a 7up cake dominate this chapter before we find out, as the narrator eavesdrops on a phone call, that Miss Katie does not like this town. The story is heart-wrenching and achingly honest as Phillips presents her narratives as real rather than just a collection of stories. There is a grit and power to them that illustrate a genuine, rural life. She answers a question about where she is from and tells us about Woodland, in the northeastern part of North Carolina. This place she has spent most of her life in is sketched into her novel and her own experiences are reflected within.
Phillips welcomed us into her stories, encouraging us to share her empathy for Southern spaces and the people who inhabit them.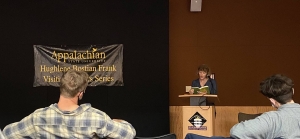 Tags: