As a fellow creative writer myself, I was excited to interview Franklin Bogle about his current experiences in being in a Master's creative writing program. As our conversation developed, I began to see the passion and joy he has as a writer. From the early stages of his life to now, he was always searching for what he wanted to do, and he came to the conclusion of being both a writer and a teacher.
As a kid, Franklin always had two loves--storytelling, as well as reading and writing. But it was at the age of 15 that he began to write seriously and continuously. He grew up as the son of an educator and was always around his mother during his school years. His mother has two Master's degrees and was an English high school teacher. So when he was in elementary school, he would often walk through a wooded half-mile trail that connected to the high school to stay in his mother's class at the end of the day. Despite going to a high school that had competitive academic students, Franklin did not take his academics seriously and got away with a 4.0 GPA while doing as little work as possible. This would prevent him from being accepted into his father's alma mater, UNC-Chapel Hill, so he had to narrow his colleges down to either South Carolina or App State. If he went to South Carolina, he would have majored in Pre-law, but if he went to App State he would room with his best friend and major in what he really wanted to do, which was English and Creative Writing. His mother told him to overall pursue his dreams and so he chose to go to Appalachian State University.
At Appalachian State, he started out as a film studies concentration English major, and after his first semester, he switched to creative writing. He had Professor Weinberg for three of his creative writing classes and really enjoyed them. In this period, he realized that fiction writing was something he wanted to do and possibly teach. After having discussions with Professor Weinberg and other English professors, he found a summer writing seminar in New York after his Junior year and applied to it. He was accepted to study at NYU for a month, and this program allowed him to experience what a graduate student would do in an MFA program. Through this program, he met some really cool people and still talks to two of the students he met there. One was a young filmmaker, and the other was an aspiring stand-up comedian; they all continue to share new work with each other. After taking the NYU program, his resolve to continue to write, teach, and meet others who wanted to write only grew stronger.
"You know, the end goal for all of us is to just write and make a living off that," Franklin says. "And who's to say we can't? I believe that we all can--it just takes a lot of work because writing is one of the hardest things to do."
As he approached his college graduation, Franklin learned from Professor Weinberg about two types of graduate creative writing programs that he could pursue: an MFA and Master's Degree program. An MFA stands for "Master of Fine Arts,'' and the difference between an MFA and a Master's program is that an MFA solely focuses on a certain study of arts, whereas a Master's program can focus on both literary studies and creative writing. Understanding these two types of programs played a crucial part in his decision about which route he would take towards graduate school. He applied to several different MFA programs and got accepted into the University of New Orleans, but he declined the offer and is actually in a Master's program at the University of South Alabama. He chose the Master's program because it provides a better chance for him to land a teaching job at a community college; it also does not preclude him from pursuing a separate Master of Fine Arts degree in the future. Additionally, the literary background can assist in his pursuit of a doctorate if he wants to ever teach literature at a university. Franklin will graduate with a Master's of English with a concentration in Creative Writing, but it will be considered a Master's in English.
Franklin's notes that the two biggest differences between a graduate and an undergraduate writing program are that a graduate program goes into more detail on creatively written pieces, and the caliber of students in a graduate program is much higher because the students really want to be there and write, which pushes you to become better and write more. To sum it up easily, he says, "It's like a workshop on steroids." There are more highly in-depth concentrated and tougher degree workshops, and more notes to take. The schedule deadlines are closer, forcing a student to read and write more, which leads to more cycles of revisions.

In his Master's program, Franklin can only take three courses a semester, and for his creative classes, he is writing poetry, a nonfiction essay, and a short story. He had to write five poems within the first three weeks of the semester, and all five went through three rounds of revisions within that month. He is in the process of writing his nonfiction essay that has two rounds of revisions, and the short story will go through one round of revision. He also has to take a literary course each semester with his creative writing classes, and he finds this really fun because he knows most of the students in his literary class since the majority of them are from his creative classes. He adds that their discussions in the literary course are often similar to the issues creative writers would discuss in a workshop.
Franklin's experience as a graduate student has been great so far, but Covid-19 has robbed graduate students of the full-on experience. He has three classes and has one class where they meet twice a week; once in person and once in Zoom. The other two classes meet only once a week, with one of the classes varying each week between in-person or Zoom. Many events that are usually provided for the students were canceled this semester and there is barely anything the Graduate students can do in-person. For instance, a writer named David James Poissant was supposed to come and visit the graduate students at South Alabama to do a reading and discuss craft issues but could not. Instead, they had a Zoom session with him, which was still great, but the in-person experience would have been even better.
Once Franklin moved to live in Mobile, Alabama, he began to notice that there was a big difference between North Carolina and Alabama. To him, it feels as if Alabama is its own little country because the food and climate are vastly different from North Carolina. It felt strange to move to a new place, but he loves experiencing new things and enjoys trying new food. He has tried different types of seafood in Mobile and has eaten more fish in the last two months than in his entire life. The city of Mobile has a strong cultural life, and the downtown part of Mobile is a lot more artsy than other parts of Alabama that he has visited. Surprisingly enough, there is one similarity that Mobile, Alabama, has with North Carolina--Franklin finds that Mobile has a Boone feel because a lot of things are built around the University of South Alabama, just as much of Boone is built around Appalachian State.
A big project that Franklin is currently working on is the first draft of a novel that he wants to have finished by December.
Credits: Written by Jason Xiong, photo supplied by College of Arts and Sciences.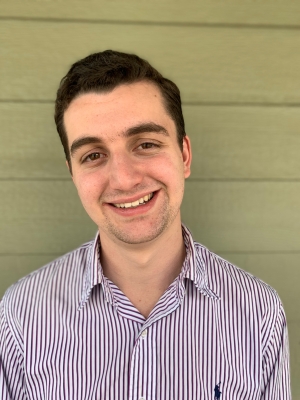 Tags: