ENG 4880/4881
Literature of the Victorian Period: The Bildungsroman (Novel of Education)
Dr. Jill Ehnenn TR 11-12:15
Let us start with a child. An extraordinary child, a lonely child. What happens when he—or she—moves from innocence to experience?
Love and loss, hardship and wild success, dreams and disappointment, and resisting the iron grip of society—these are events that shape perhaps the most archetypal of all novel forms, the Bildungsroman, or, novel of education, apprenticeship, or development. In this class we will study this subgenre of the novel, which became the primary novel form in the nineteenth century, and still shapes the novel and its inheritors and co-conspirators in cultural mythology, film and TV, today. Authors include Dickens, Bronte, Austen, Barrett Browning, Eliot, and Hardy.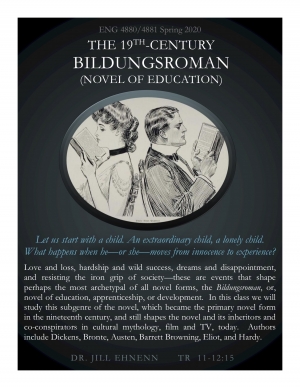 Tags: