This semester Dr. Kyle Stevens is away in Boston as a visiting scholar at MIT. He was invited to teach two classes for the semester, a course on his specialty of film sound and a basic intro to film course. In addition, he is giving a talk titled Headphones, Cinematic Listening & the Frame of the Skull for the Boston Cinema/Media Seminar & lit, a group that includes schools such as MIT, Boston University and Harvard. The talk will focus on the idea of using headphones to listen to film and when that sound is detached from the "shared world." He will also be speaking at Harvard University next month at an event to honor philosopher Stanley Cavell.
In addition to his specialty in sound, Dr. Stevens also writes on American film history, film theory, and digital media. When asked about the nature of his work, he said:
"I sometimes like to say that I don't study art, I study entertainment."
Of all the places to study, MIT seems to be working for Stevens so far. Aside from the massive library, he says that the largest benefit is time since he's teaching fewer classes. We hope he enjoys his time at MIT.
Written by Daniel Mosakewicz
Image Courtesy of Dr. Stevens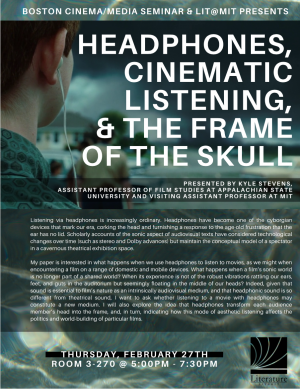 Tags: