Congratulations to our graduating class of 2020!

Bachelor's Degrees

Outstanding Seniors
Kaitlin E. Brescia, English, Secondary Education
Arthur L. Cleary, Creative Writing
Ella E. Crookshanks, Literary Studies
Megan E. Gentry, English Secondary Education
Candace G. Gold, English, Secondary Education
Rachel N. Hales, Literary Studies
Leslie K. Knight, English, Secondary Education
Julianna G. Millward, Professional Writing
David K. Podbielski, Literary Studies
Creative Writing
Berganzo Delgado, William
Cleary, Arthur L.
Cole, Samuel B.
Cullars, Sierra E.
Distefano, Rushelle L.
Friday, Shelby E.
Gutierrez, Marcel D.
Hanson, Ashlie E.
Hargrove, Kathryn R.
Hayhurst, Brooke W.
Head, Charity A.
Hempen, Lauren R.
Hickman, Haley E.
Hurley, Kyle D.
Keller, Lauren V.
Lail, Kaitlyn E.
Martin, Olivia M.
Maurno, Courtney A.
McGinnis, Christopher C.
Rooyakkers, Erik D.
Shirlin, Emma J.
Slawson, Marnie A.
Wenger, Madilynne A.
West, Adria N.
Whaley, Camryn N.
Wilder, Katelyn A.
Wise, Grace A.
Film Studies
Gilmore, Vincent R.
Perry, Ashley E.
Ramkissoon, Dani D.
Starr, Natalie B.
Wray, Julia M.
Literary Studies
Blankenship, Barclay Ann
Crookshanks, Ella E.
Davis, Tucker J.
Gilbert, Krista M.
Hales, Rachel N.
Hall, Amanda J.
Hartley, Zachary A.
Howell, Madison C.
Lagrange, Nicole K.
Lagusis, Maria E.
Morton, Tabitha B.
Plybon, Nathan W.
Podbielski, David K.
Storelli, Elena M.
Sullivan, Reilly B.
Thomas, Martha E.
Thomas, Rachel G.
Vreeland, Teague M.
Wilder, Katelyn A.
Williams, Adam J.
Professional Writing
Bernhardt, Carsyn R.
Deaton, Ruth E.
Dimenna, Everett
Gunter, Kayla M.
Kahle, John D.
Millward, Julianna G.
Panico, Sarah J.
Shahrak, Cheska R.
Wilkerson, Dominick T.
Secondary Education
Amburgey, Caitlin M.
Brescia, Kaitlin E.
Cannon, Taylior E.
Fortner, Taylor M.
Garcia Navarro, Yesenia
Gentry, Megan E.
Gold, Candace G.
Harvey, Hannah L.
Kane, Harrison A.
Knight, Leslie K.
Moore, Brandon E.
Songey, Catherine L.
Master's of Arts in English
Emily Auman
Bekah Ballard
Clairice Brown
Olivia Buck
Maddie Carr
Chelsea Hatfield
Emily Kane
Sydney Sharpstene
Thom Young
We are proud of your accomplishments and are looking forward to sharing in the joy of your sucesses!
Stay connected through our social media accounts on Facebook, Twitter, and Instagram.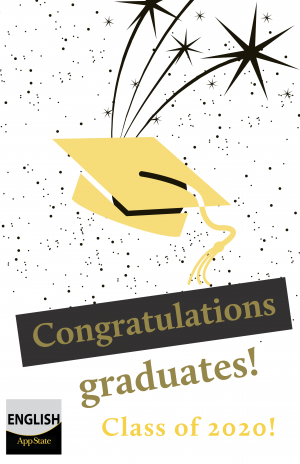 Tags: