"I wonder what my life would be if I never had to cross the sea / but if I had not I would not have met/brothers like these." This is the closing line of "Brothers Like These: A Staged Reading of Poetry by Vietnam Veterans," by a group of Vietnam Veterans who met at the Asheville VA hospital where they first hesitantly sat down to write poetry with Professor Joseph Bathanti and Dr. Bruce Kelly, a primary care physician at the Asheville VA, whom Bathanti teamed with in 2014. What began as a small attempt by Professor Bathanti and Dr. Kelly to get Vietnam veterans with PTSD to write poetry has turned into a VA program which is being introduced into five North Carolina VA hospitals and clinics as well as one in Hampton, Virginia and one in Saint Louis, Missouri. It has also spawned a published collection of the poems and memoirs titled Brothers Like These, and the veterans involved have formed their own non-profit organization: The North Carolina Veterans Writing Alliance.
Professor Bathanti, poet laureate of North Carolina (2012-14), was appointed to be the writer in residence at the Asheville VA Medical Center in 2016. Together he and Dr. Kelly decided to initiate a creative writing program for Vietnam veterans with PTSD to tell their stories. When all the veterans came in they were skeptical Professor Bathanti said.
"We were honestly surprised someone didn't get up and walk out. They are all pretty tough guys who didn't think much of poetry. But something amazing happened like in a movie; they all picked up their pencils and started writing."
Professor Bathanti says that one of the critical parts of the project was how it was approached. "I'm not a therapist, I'm a storyteller." He also said that the environment and experience are very different from when he teaches in an Appalachian State classroom. He described the difference by saying: "I don't want to go in there and start putting them through paces. Words like good and bad are never used." While it may not be a traditional classroom setting, it certainly is a community of writers. After the veterans write, different pieces are shared and discussed in a way that Professor Bathanti says is really incredible, as each work seems to remind each writer of something they experienced that they had never shared before. This is essential to the process because, as Professor Bathanti, said, "They understand in ways you and I can't."
Professor Bathanti says there is something healing about writing: "It's like bringing order, or cosmos, to chaos. Either you control the memory or the memory controls you." Many of the veterans agreed, and some said that it helped them connect with their families and give them a way to understand their experiences.
Since then they have decided to perform their writing at readings, and have done so all across the state of North Carolina from the coast to here at Appalachian State. With the project's immense success, Professor. Bathanti was quick to reflect on both its origins and its impact. He said that the reason that he and Dr. Kelly started with Vietnam veterans was because that was the war of their generation. "It was a way of saying thank you," said Professor Bathanti. The project's incredible success is an "outrageous surprise," said Professor Bathanti. "Our goal was to just go in there and do some good." Even so, Bathanti feels like he should be the one saying thank you: "They've taught me more than I could ever teach them."
With the current global situation, the implementation of the program to other VA hospitals has been halted but is slated to begin as soon as the pandemic is over. Thank you, Professor Bathanti and Dr. Kelly for making a difference in the lives of our veterans.
Written by Daniel Mosakewicz
Photo provided by Professor Bathanti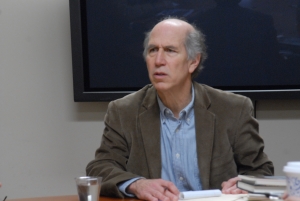 Tags: