Mid-term week is stressful for everyone, including our faculty. For some much-needed relaxation, many professors gathered the Wednesday before spring break for Puerto Rican cuisine, dessert, and fellowship. The theme for the lunch was "the Book that Opened You," where each professor was encouraged to share what book or books really inspired their love of literature and influenced who they are today.
There was a wide range of genres represented, from The Lion the Witch and the Wardrobe to Fan Man, with every book mentioned leading to agreement and discussion. Surprises genres included cookbooks and comics which found assent across the table. Many classics you likely read in high school were also mentioned including The Scarlet Letters and The Lord of the Flies. No matter how recognizable the title or in what form the content, each professor was able to trace their book to the ideas they have dedicated their lives today in incredible demonstrations of how words of any kind can have an impact on someone who reads them, and how it only takes one book to make a reader for life.
So, now that you're hopefully being responsible and staying home, pick up a book. It can be one from your childhood, that special book you read over and over till the cover has nearly fallen off. It could be that book you bought years ago and still haven't read. It could even be a book you've never seen before. No matter the case, find some space in these odd times and disappear into the pages of a story; it may just make a reader out of you.
Written by Daniel Mosakewicz
Photos by Susan Weinberg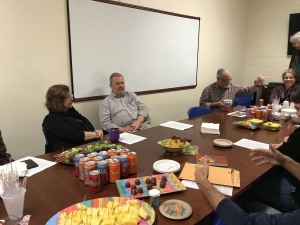 Tags: