Every year, the English Department hosts the Rhetoric and Composition Institute (RCI). This year's RCI, held on October 24th and 25th, was on the themes of diversity, equality, and inclusion. This two-day conference gave our faculty and students the chance to explore the significance of inclusion in the classroom through workshops and presentations led by field experts such as this year's keynote speakers, Stephanie Kerschbaum and Bethany Davila.
Guest speakers such as Tammy Wahpeconiah, Willie Fleming, and Kira Taylor also led sessions which engaged attendees in conversation about the importance of staying up to date with societal changes and the impact educators can have by simply adjusting their approach to language within the classroom. They also led discussions on topics ranging from the institutional perspective on inclusive excellence, to pedagogical practices around diversity and inclusion in the English Department, to perspectives on student needs.
"Kira Taylor offered incredible insight that encouraged faculty to acknowledge the historicity of our subject matters and to make sure we don't assume students' familiarity with the topics and the research. She also encouraged us to start with ourselves to debunk the assumptions and acknowledge our own positionality as well as the history of higher ed."- Belinda Walzer
Dr. Bethany Mannon, one of the lead organizers, explained that rhetoric is the purposeful and strategic use of language to respond to a situation. Therefore, the importance of connecting rhetoric to inclusivity stands in the need for diverse recognition; thinking more deeply about the different kinds of identity that students bring to the table and the advantage this can bring to the overall learning environment.
"Our faculty are so talented and care so much about teaching, but are always so busy, so it is valuable to have two days where we all are at the same place and same time, and hear each others strategies and ideas"
Appalachian State has a student body that is consistently growing and representing a wider range of diversity every year. Because of this, events such as RCI aim to bring faculty together and provide a way for professors and students to take steps that ensure a welcoming and verbally inclusive educational community. As Bill Togerson puts it, "There's a lot of specialized knowledge about the teaching of writing within the faculty in RC and RCI gives us an ideal setting to learn from one another."
"I want to give a huge thanks to the people that attended, spoke and gave their time and energy to think about how they can support their colleagues." -Bethany Mannon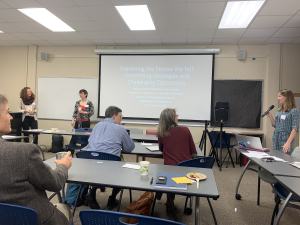 Tags: