Academic Specialty:
20th Century American and British Literature; Film
Office Hours:
MW 4:00-5:00
TR 3:15-5:00
F 2:00-3:30 or by appt
Education:
B. A. Oberlin College
M. A. University of Pennsylvania
Ph. D. State University of New York at Buffalo
Leon Lewis has taught at Long Island University in Brooklyn, NY; at New York University in Manhattan, NY; and at the University College of Wales at Aberystwyth prior to his appointment at Appalachian State University. He is the author of Henry Miller: The Major Writings (Schocken/Random House, 1986); Eccentric Individuality in William Kotzwinkle's The Fan Man, E. T., Doctor Rat, and Other Works of Fantasy and Fiction (The Edwin Mellen Press, 2002), and is the translator of Gilbert Michlin's Of No Interest to the Nation: A Jewish Family in France, 1925-1945 (Wayne State University Press, 2004). He edited Robert M. Young: Essays on the Films which was published by McFarland in 2005.
Selected Publications:
Entries on Bernard Malamud's "The Magic Barrel," John Cheever's "The Swimmer," John Updike's "Separating," Raymond Carver's "Cathedral," and Ernest Hemingway's "Hills Like White Elephants" in The Literary Encylopedia, London (www.litencyc.com).
Sherman Alexie (Critical Insights). Ed. Hackensack: Salem Press, 2011.
"Famous Long Ago: Or, Frost Among the Infinities," Shenandoah, Volume 58, Number 1, Spring/Summer 2008, 157-164.
"Aural Invention as Floral Splendor: Louis Zukofsky's Vision of Natural Beauty in '80 Flowers,'" The Writer's Chronicle, February 2008, 24-29.
"John Updike and Jackson Pollock; Seek My Face," Magill's Literary Annual, 2003, Hackensack, NJ: 2004, 727-731.
"E. E. Cummings," Great American Writers: Twentieth Century, New York: Marshall Cavendish, 2002; 311-332.
"Native American Short Fiction," Critical Survey of Short Fiction, Second Edition Revised, Pasadena, CA: Salem Press, 2001, 2960-2971.
"Salman Rushdie: Beyond the Satantic Vision: The Moor's Last Sigh and The Ground Beneath Her Feet ," Beacham's Encyclopedia of Popular Fiction, Vol. 12. Farmington Hills, MI: Gale Research, 2000; 115-125; 267-276.
"William S. Burroughs,"Amerian Novelists Since World War II, 4 th Series. The Dictionary of Literary Biography, Volume 152. Detroit, MI: Gale Research, 1995; 14-34.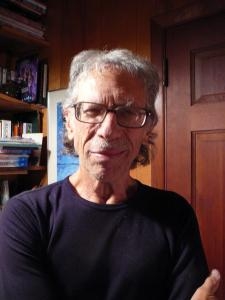 Title:

Professor Emeritus, Senior Lecturer
Department:

Department of English

Email address: Email me

Phone: (828) 262-2329
Office address
Sanford Hall 244