Academic Specialty:
Victorian Literature and Culture, Queer Theory/LGBTQ Studies, Poetry and Poetics
Fall 2023 Classes:
ENG 5880 Victorian Literature. (Ekphrasis and the Making of the 19th-Century "World") W 5-8
ENG 3000 Approaches to Literary Studies TR 2-3:15
ENG 2020 British Literature Since 1789 TR 3:30
Office Hours:
In person TR 1-2 and by appointment
Education:
Ph.D., English. The George Washington University
M.A., English. Northwestern University
B.A., Natural Sciences. The Johns Hopkins University
Selected Publications:
Books
Books In-progress:
Audacious Lives: A Biography of "Michael Field" (co-authored with Sharon Bickle)
Art Objects and English Words: Ekphrasis and the Making of the Nineteenth-century "World"
Edited Special Issues
Guest editor with Heather Bozant Witcher. "Poetry and the Victorian Visual Imagination: New Conversations." Special issue of Victorian Poetry, Vol. 60 No. 4 (2022).
Guest editor and "Preface." Special issue on "Natural and Unnatural Histories." Nineteenth-Century Contexts, 38.5 (2016).
Articles and Book Chapters
"Michael Field" Routledge Anthology of Women's Theatre Theory and Dramatic Criticism. ed. Catherine Burroughs and J. Ellen Gainor. Routledge, 2023.
"Haptic Ekphrasis." Victorian Studies. 64.1 (2021) pp. 88-114.
"My Victorian Life: Critical Reflections in the Personal Voice." Nineteenth Century Contexts. Volume 43 issue 5. Special issue on "Unprecedented Disruptions." Winter 2021.
"'Thy Body Maketh a Solemn Song': Desire and Disability in Michael Field's Catholic Poems" in Michael Field, Decadent Moderns. eds. Sarah Parker and Ana Vadillo, Ohio University Press, 2019. pp. 188-209.
"Sexuality." The Cambridge Companion to Victorian Women's Poetry. Ed. Linda K. Hughes. Cambridge UP, 2019. pp. 213-229.
(Reprint). "Reorienting the Bildungsroman: Progress Narratives, Queerness, and Disability in The History of Sir Richard Calmady and Jude the Obscure." in Lucas Malet, Dissident Pilgrim: Critical Essays eds. Jane Ford and Alexandra Gray. Among the Victorianists and Modernists series, Routledge, 2019. pp.147-164.
"From 'We Other Victorians' to 'Pussy Grabs Back': Thinking Gender, Thinking Sex, and Feminist Methodological Futures in Victorian Studies Today." Victorian Literature and Culture. Vol. 47.1 (2019): 35-62.
"On Art Objects and Women's Words: Ekphrasis in Vernon Lee (1887), Graham R. Tomson (1889), and Michael Field (1892)." BRANCH: Britain, Representation, and the Nineteenth Century. ed. Dino Felluga. October, 2017.
"Reorienting the Bildungsroman: Progress Narratives, Queerness, and Disability in The History of Sir Richard Calmady and Jude the Obscure." Journal of Literary & Cultural Disability Studies. 11.2 (2017): 151-168.
"'Our Brains Struck Fire Each from Each': Disidentification, Difference, and Desire in the Collaborative Aesthetics of Michael Field." in Economies of Desire at the Victorian Fin de Siècle: Libidinal Lives. Eds. Jane Ford, Kim Edwards Keates, and Patricia Pulham. New York and London: Routledge, 2015. pp. 180-203.
"'Strong Traivelling': Re-visions of Women's Subjectivity and Female Labor in the Ballad-work of Elizabeth Siddal." Victorian Poetry 52.2 (Summer 2014):251-276.
"Queering Harry Potter" in Queer Popular Culture: Literature, Media, Film and Television. 2nd ed. Ed.Thomas Peele. Palgrave, 2011. pp. 229-256.
"'Dragging at Memory's Fetter': Michael Field's Personal Elegies, Victorian Mourning, and the Problem of Whym Chow." The Michaelian 1 (June, 2009).
"Looking Strategically: Feminist and Queer Aesthetics in Michael Field's Sight and Song." Victorian Poetry. 42.3 (Fall 2004):213-259.
"Writing Against, Writing Through: Subjectivity, Vocation and Authorship in the Work of Dorothy Wordsworth." South Atlantic Review. 64.1 (1999): 72-90.
"Desperately Seeking Susan Among the Trash: Reinscription, Subversion and Visibility in the Lesbian Romance Novel." Atlantis. special issue on "Sexualities and Feminisms." 23.1 (1998): 120-127.
"'An Attractive Dramatic Exhibition?': Female Friendship, Shakespeare's Women, and Female Performativity in 19th-Century Britain." Women's Studies. 26 (1997): 315-341.
Encyclopedia essays and Book reviews
V21 Collations Book Forum: Invited discussant on Dustin Friedman's Before Queer Theory: Victorian Aestheticism and the Self. http://v21collective.org/category/collations-book-forum/
"Hannah Cullwick and Arthur Munby." Blackwell Encyclopedia of Victorian Literature. Dino Franco Felluga, Pamela K. Gilbert and Linda K. Hughes, eds. John Wiley & Sons Inc., 2015.
Rev. of Second Person Singular: Late Victorian Women Poets and the Bonds of Verse by Emily Harrington. Review 19. September, 2017. http://www.nbol-19.org/
"Come to me." Rev. of The Fowl and the Pussycat: Love Letters of Michael Field, 1876-1909 ed. by Sharon Bickle. Women's Review of Books 27.5: (September/October2010): 32-34.
"Homosexuality." Companion to the British Short Story. Ed. Andrew Maunder. New York: Facts on File, 2007. 189-190.
Digital Projects
Lead editor, the 1911 volume of the online Michael Field Diary Transcription project. In progress.
"Statement on Authorship." White paper on Evaluating the Digital Humanities co-authored with Ann Ardis, Laurel Brake, Cristina Della Coletta, Regenia Gagnier, Daniel Radcliffe, and Nancy Workman. NEH/NINES, 2011.
Jill Ehnenn joined Appalachian State University's English department in 2001, is a member of the Graduate Faculty, and standing faculty in the Gender, Women's, and Sexuality Studies Program. Seminars on Victorian Literature have included The Bildungsroman; Victorian Women's Poetry, Victorian Medievalisms, Sexual Politics and Victorian Culture; The British Aesthetic Movement; and The Victorian Visual Imagination. She also regularly teaches Bibliography and Research (Intro to Graduate Studies); Approaches to Literary Studies (Intro to the Major); and undergrad and graduate courses for GWS such as Queer Theories and Feminisms; Intro to LGBT Studies; Lesbian Literature; Feminist Science Fiction; Sex, Gender, Power; and Classics in Feminist Thought and Action.
Her research interests focus upon intersections of subjectivity, sexuality, and embodiment as they are represented in nineteenth-century literary and visual texts. Her most recent book is Michael Field's Revisionary Poetics which is a monograph on the two late-Victorian women who wrote collaboratively under the pseudonym "Michael Field." She is currently working on two new book projects, a co-authored biography of Michael Field and a monograph on queer-feminist intersectional approaches to ekphrasis (picture-poems and other literary versions of visual artworks). Work-in-progress on contemporary queer issues include an article on queerness and choice.
Jill is second Vice President of INCS (Interdisciplinary Nineteenth-Century Studies) and serves on the editorial board of JVC-Journal of Victorian Culture. In 2016, she was the lead organizer for the Interdisciplinary Nineteenth-Century Studies (INCS) Conference, "Natural and Unnatural Histories," hosted by Appalachian and held in Asheville, NC.
She has also served as Faculty Senate Chair and as Assistant Chair of English. In 2019 she won the College of Arts and Sciences Jimmy Smith Outstanding Service Award and in 2023 she won the College of Arts and Sciences Donald Sink Award Outstanding Scholar Award.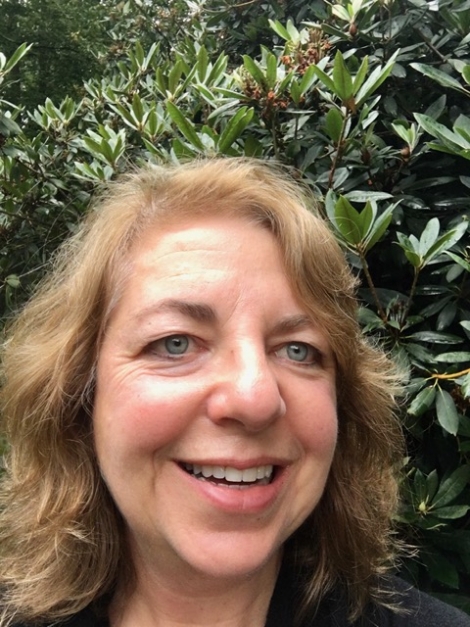 Title:

Professor
Department:

Department of English

Email address: Email me

Phone: (828) 262-2334
Office address
Sanford Hall 550