Academic Specialties:
Contemporary American Literature, Rhetoric and Composition, Film, and Creative Writing
Education:
Ph.D., English, University of North Dakota
M.F.A., Creative Writing, University of Nevada, Las Vegas
B.F.A., Creative Writing, Penn State Behrend
Selected Publications:
"Diamond Dads." Pithead Chapel, 2022 .
"Taking the Bait." Cleaver Magazine, 2018.
"B-Side." Digging Through the Fat, 2016.
"Returning Train(s)." North Dakota Quarterly, 2016.
"County Road Q." drafthorse, 2014.
"Arriving on Time: Postcard to Centennial." Blue Bear Review, 2012.
"Arriving on Time: I-79." Rusty Typer, 2011.
"Sixteen Mile Flood." Lake Effect, 2008.
Awards:
2015 Thomas McGrath Poetry Award, Academy of American Poets
Presentations:
"New Writing from Watauga County." Appalachian Studies Association Conference; Morgantown, WV. March 17-20, 2022.
"Craft Talk: Fiction." University of North Dakota Writers Conference; Grand Forks, ND. April 6-8, 2016.
"Finding Your Voice in Northern Appalachian Writing." Writers Conference of Northern Appalachia; Wheeling, WV. September 6-8, 2019.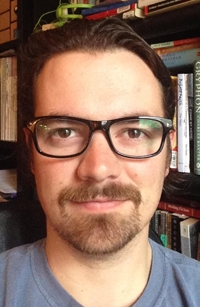 Title:

Lecturer
Department:

Department of English

Email address: Email me

Phone: (828) 262-2328
Office address
332 Sanford Hall
Office Hours: TR 10:00 am-2:00 pm