Academic Specialty:
Theories and Pedagogies of Comparative Literature and World Literature; Literary Representations of Political Violence; 20th and 21st century Turkish Literature.
Classes:
Great Books: Strange Fictions (English 2060)
Topics in World Literature: Violence and Literature (English 4590)
Global Shakespeares (English 5840, co-taught with Dr. David Orvis)
Office Hours:
Wednesday, 11:00-12:00pm (for Global Shakespeares), 1:00pm-4:00pm and by appointment
Education:
Ph.D., Comparative Literature, University of Michigan
B.A., English and Hispanic Studies, Macalester College (Saint Paul, MN)
Selected Publications:
"Writing Torture: Erdal Öz's Yaralısın," The Journal of Turkish Literature (JTL) 8 (2012): 116-129.
Conference Presentations:
"Transnational Turkish(es) in Murat Uyurkulak's Tol." Middle East Studies Association (MESA) Annual Meeting, Boston, MA. November 17-20, 2016.
"Perennial Past: Murat Uyurkulak's Novel Tol as a Coup Narrative in Modern Turkish Literature." Southeast Regional Middle East and Islamic Studies Seminar (SERMEISS) Biannual Meeting. Knoxville, TN. April 15-17, 2016.
"Teaching World Literature: Texts That Circulate and People Who Cannot." American Comparative Literature Association (ACLA) Annual Meeting. Cambridge, MA. March 17-20, 2016.
"Literature beyond the East/West Divide: Orhan Pamuk and Juan Goytisolo." Middle East Studies Association (MESA) Annual Meeting, Denver, CO. November 21-24, 2015.
"Representation as Repetition and Novelty: Reenactments of State-Violence in Si te dicen que caí by Juan Marsé and Kar by Orhan Pamuk." American Comparative Literature Association (ACLA) Annual Meeting, Seattle, WA. March 26-29, 2015.
"Violence, Reenactment, and Metafiction in Twentieth Century Turkish and Spanish Literature." Forum Transregionale Studien, EUME Talk Series, Berlin, Germany. May 6, 2015.
"New Frameworks: Turkey, Spain, and the Question of World Literature," Middle East and Middle Eastern American Center (MEMEAC), The Graduate Center, City University of New York (CUNY), New York. Discussant, Prof. Anthony Alessandrini. March 23, 2015.
"Geçmeyen Geçmiş: Murat Uyurkulak ve Bir Darbe Romanı Olarak Tol," Kolokyum Turkistik ("Turkish Colloquium), University of Duisburg-Essen, Germany. January 28, 2015.
Başak Çandar joined the faculty of Appalachian State University in 2014, but started teaching full-time at the university in 2015, after the completion of her post-doctoral fellowship in Berlin, Germany. In Berlin, she was part of a program titled Europe in the Middle East, the Middle East in Europe (EUME), an interdisciplinary research program within Forum Transregionale Studien. Her research and teaching interests include literary and cinematic representations of violence in the 20th and 21st centuries, with a focus on state-sponsored violence, ethics of reading and writing about violence and theories and pedagogies of Comparative and World Literature. She has published and presented on 20th century Turkish and peninsular Spanish literature, questions of linguistic and cultural translation, and the tensions between the violence of globalization and pedagogical practices in World Literature. Her current book project addresses these tensions and articulates practices of World Literature that emphasize dialogue through difference, rather than through an emphasis on universality. At ASU, Dr. Çandar teaches courses on World Literature, Comparative Literature, and Global Cinema.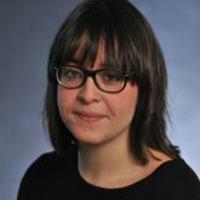 Title:

Assistant Professor
Department:

Department of English

Email address: Email me

Phone: (828) 262-2890
Office address
209F Edwin Duncan