Classes:
ENG 4820/21: Medieval Literature
ENG 4825/26: Topics in Medieval Literature
ENG 4660: History of the English Language
ENG 1500 Introduction to Literature
ENG 2010: British Literature I (for majors)
ENG 2050: Studies in British Literature (general education)
Office Hours:
by Zoom appointment or email
Education:
B.A. University of Texas at Austin
M.A. and Ph.D University of North Carolina at Chapel Hill
Alison Gulley joined the Appalachian English Department in 2008 and is a member of the Graduate Faculty and affiliate member of Gender, Women's, and Sexuality Studies. She regularly teaches courses on medieval literature and History of the English Language. Her primary research interest has been Old and Middle English literature, with a particular focus in medieval gender. Her monograph, The Displacement of the Body in Ælfric's Lives of the Virgin Martyrs, addresses the hagiographical writings of the late 10th/early 11th-century abbot and church reformer Ælfric of Eynsham and compares his Old English translations to their 3rd- and 4th-century Latin sources. Her edited collection of essays, Teaching Rape in the Medieval Literature Classroom: Approaches to Difficult Texts, proposes ethical pedagogies for teaching medieval rape narratives. More recently, Dr. Gulley has turned her attention to medievalism, that is, the appearance or creation of "the medieval" in the post-medieval world. She has, for example, investigated the influence of Chaucer on Harry Potter, as well as the ways that the label "medieval" has been applied to Appalachia in both negative and positive ways. Currently, she is working on a book chapter addressing rural American adaptations of the Beowulf story.
Selected Publications:
Books
The Displacement of the Body in Ælfric's Lives of the Virgin Martyrs. Ashgate Press, 2014. (2014 winner of the Southeastern Medieval Association's Best First Book Award).
Teaching Rape in the Medieval Literature Classroom: Approaches to Difficult Texts. Kalamazoo: Medieval Institute Publications, forthcoming 2018. Ed. Alison Gulley.
The volume includes my two essays, "Introduction: Teaching Rape: Challenges in the 21st-Century Classroom" and "`How do we know he really raped her?': Confronting Student Skepticism When Teaching the `Wife of Bath's Tale.'"
Articles
"'I yearned for a strange land and a people that had the charm of originality': Searching for Salvation in Medieval Appalachia." The United States of Medievalism. Eds. Tison Pugh and Susan Aronstein. University of Toronto Press. Forthcoming, 2021.
"Knockin' on Heaven's Door: Sexual Renunciation, Apocalyptic Anticipation, and Liminality in Ælfric's Lives of the Virgin Spouses." Journal of English and Germanic Philology 117 (2018): 141-159.
"`What We Need is a Hero': Beowulf in a Post-9/11 World." The Journal of Popular Culture. 47 (2014): 797-813.
"'We Wol Sleen this False Traytor Deeth': The Search for Immortality in Chaucer's Pardoner's Tale and J.K. Rowling's The Deathly Hallows." Studies in Medievalism 23 (2014): 189-204.
"Suffering and Salvation: Birthing Pains in Ælfric's Life of Agatha." Medieval Perspectives 17 (2002): 105-120.
"`Seo fæmne þa lærde swa lange þone cniht': The Christian Wife as Converter and Ælfric's Anglo-Saxon Audience." Parergon 19 (2002): 39-51.
"Not Tonight Dear, I Have a Vow of Chastity: Sexual Abstinence and Marital Vocation in The Book of Margery Kempe." Publications of the Medieval Association of the Midwest 6 (1999): 133-47.
"'Heo man ne waes': Cross-dressing, Sex-Change, and Womanhood in Ælfric's Life of Eugenia." Mediaevalia 22 (1998): 113-32.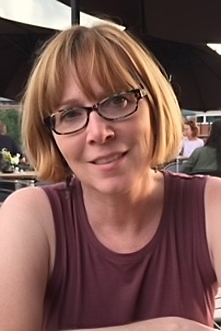 Title:

Professor
Department:

Department of English

Email address: Email me

Phone: (828) 262-7303
Office address
Sanford Hall 552