Academic Specialty:
Restoration and Eighteenth-Century British Literature and Culture, The Novel, Film, Literature and the Law
Office Hours:
TR 9:30-10:45
Education:
Ph.D., University of Virginia (2000)
J.D., Georgetown University (1988)
B.A., Columbia University (1985)
Alex Pitofsky joined the ASU English faculty in 2001. His scholarship, which usually focuses on the novel and on British literature, law, and history in the Restoration and the 18th century, has appeared in Studies in Eighteenth-Century Culture, Eighteenth Century Life, Postmodern Culture, Twentieth Century Literature, The Mark Twain Annual, Studies in American Culture, and other publications.
Selected Publications:
Books
American Boarding-School Fiction, 1981-2021: Inclusion and Scandal (forthcoming from Lexington Books, an imprint of Rowman & Littlefield, in 2023)
American Boarding-School Fiction, 1928-1981: A Critical Study (McFarland 2014)
The Hardaways: A Novel (self-published with Opus/Politics and Prose 2017)
Journal Articles
"Sports, Aging, and Loss in Rabbit at Rest," 6:1 The John Updike Review (Winter 2018): 121-135.
"'A Long-Held Academic Fantasy': The Generation Gap in Testimony," 40.1: Studies in American Culture (2017): 67-90.
"Unseen Academy: John Knowles's A Separate Peace." Papers on Language & Literature 49. 4 (September 2013): 390.
"Masculine Competition and Boarding-School Culture in The Catcher in the Rye," Studies in American Culture 34.1 (October 2011): 67-85.
"The Education of Lewis Medlock: Narcissism and Survival in Deliverance," James Dickey Newsletter 25:2 (2009): 1-16.
"Race, Crime, and Motherhood in George Pelecanos's Soul Circus," Studies in Popular Culture 30:2 (2008): 37-57.
"Pap Finn's Overture: Fatherhood, Identity, and Southwestern Culture in Adventures of Huckleberry Finn," The Mark Twain Annual 8 (2006): 55-70.
"Race, Manners, and Satire in Burney's A Busy Day," The Burney Journal 8 (2005): 50-63.
"'What Do You Think Laws Were Made For?': Prison Reform Discourse and the English Jacobin Novel," Studies in Eighteenth-Century Culture 33 (2004): 293-312.
"Captain Mirvan and the Politics of Manners in Evelina," The Burney Journal 7 (2004): 4-12.
"Discipline and Profit in the Prison-Industrial Complex," Postmodern Culture 12:2 (January 2002).
"The Warden's Court Martial: James Oglethorpe and the Politics of Eighteenth-Century Prison Reform," Eighteenth-Century Life 24:1 (2000): 88-102.
"'Detested for Being a Scotchman': English Nationalism in Frances Burney's Evelina," English Language Notes 36:4 (1999): 56-63.
"Dreiser's The Financier and the Horatio Alger Myth," Twentieth Century Literature 44:3 (1998): 276-290. Reprinted in 87 Children's Literature Review. Ed. Scot Peacock. Detroit: Gale, 2003.
"Moran v. Burbine: A Missed Opportunity to Curb Police Deception of Criminal Defense Attorneys," American Criminal Law Review 25 (1987): 89-114.
Chapters in Essay Collections
"Springsteen's Intimations of Mortality." Bruce Springsteen and the American Soul. Ed. David Izzo. Jefferson, North Carolina and London: McFarland (2011).
"The Working Man's Blues." The Light in Darkness. Ed. Lawrence Kirsch. Montreal: Lawrence Kirsch Communications (2009).
"Retrenchment and Authenticity in Burney's Love and Fashion." A Celebration of Frances Burney. Ed. Lorna J. Clark. Cambridge, UK: Cambridge Scholars Publishing (2007).
"'Don't Let Anybody Hurt Anybody': Working-Class Masculinity in Dominick & Eugene," The Films of Robert M. Young. Ed. Leon Lewis. Jefferson, North Carolina and London: McFarland (2005).
Online and Miscellaneous Writing
"Evelina in Morningside Heights," The Burney Letter (Spring 2012).
"'No Retiring from This': Dreams of Escape and the Last Season of The Sopranos," Magazine Americana (2010) <http://www.americanpopularculture.com/television.htm>.
"The West Wing and the Living Dead: An Interview with Dale Bailey," Tabula Rasa (2006) <http://www.tabula-rasa.info/Horror/DaleBailey.html>.
Photo © Marina R. Pitofsky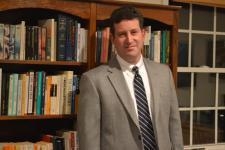 Title:

Professor
Department:

Department of English

Email address: Email me

Phone: (828) 262-2326
Office address
Sanford 401