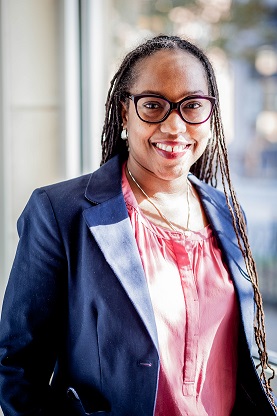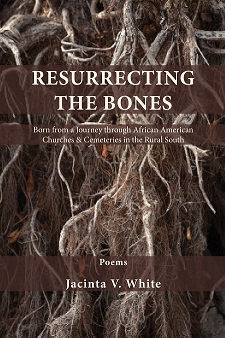 Link to Reading and Craft Talk video to be posted Thursday, September 17
Poet Jacinta White will discuss her process of exploring African American churches and cemeteries in the rural South and how that journey led to her most recent collection, RESURRECTING THE BONES. She will speak on the place of poetry as a research tool and how poetry not only helps us make sense of our world (and our perceived and realized place within it) but also how it stands within a historical context.
Jacinta V. White, the author of Resurrecting the Bones: Born from a Journey through African American Churches & Cemeteries in the Rural South (Sept. 2019, Press 53), attributes poetry to being her lifeline and began seriously writing after the sudden passing of her father in 1996. Jacinta's chapbook, Broken Ritual, was published in 2012 by Finishing Line Press In 2001, Jacinta founded The Word Project -- a company that uses poetry and art with groups to provide a space for self-discovery and healing. The Word Project is the parent company for the international, online quarterly Snapdragon: A Journal of Art & Healing. She is also the CEO of Deeper Dive Consulting, where she works with organizations and companies to build healthy workplace culture through leadership and professional development. Jacinta makes her home in Winston-Salem, where she recently received the city's Outstanding Women Leaders award.
Resurrecting the Bones is a book of poetry born out of the author's journey visiting African American churches & cemeteries in the rural South. Published by Press 53, the collection of 37 poems attempts to convey the impressions the poet received through her visits to churches and cemeteries in North Carolina, South Carolina, Georgia and Texas.
Resurrecting the Bones: Born from a Journey through African American Churches & Cemeteries in the Rural South
By Jacinta V. White
$14.95
9 x 6 - inch paperback, 78 pages
ISBN: 978-1-950413-10-2
Publication Date: September 19, 2019
Press 53
ResurrectingtheBones.com


Book Purchasing
To purchase books by the VWS authors, visit: https://bookstore.appstate.edu/c-144-visiting-writers-series.aspx.
Resources
University Library Resources on the Fall 2020 authors is available at: https://guides.library.appstate.edu/vws.
Contact
For further information on the Fall 2020 season, please email Susan Weinberg, weinbergsc@ appstate.edu.
Craft talk begins at 22:30