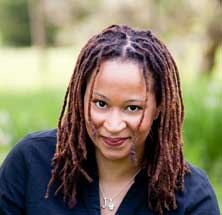 Jacinda Townsend
Novelist and Rachel Rivers-Coffey Distinguished Professor of Creative Writing

Link to reading and craft talk will be posted Thursday, October 8, at noon.
Craft Talk: The Unreal
This talk will examine all that is between straight realism and speculative fiction: magical realism, fabulism, absurdism, and surrealism. The magic that we insert into our stories helps explain the world—the universe, and oft-times the divinity--all that is beautifully random, and the power structures that need to be both perpetuated and dismantled. But magic, in storytelling, not only explains the world: it explains us. How and on what occasions might we use magical realism to help us speak the deepest truths? How might we haunt our characters with the ghosts that are so deeply in our subconscious? We will visit with all four of these subgenres to find answers.
As an accompaniment to this lecture, viewers may want to read the following:
Danzy Senna's "Admission." From Senna's collection, You Are Free.
The Marcovaldo Stories, by Italo Calvino.
"A Stone Woman," by A.S. Byatt, in her collection The Little Black Book of Stories.
"Do Stay, Giraffe," by Wolfgang Borchert, in the anthology The Art of the Tale.
Jacinda Townsend recently served as the Appalachian Writer in Residence at Berea College. She is the author of Saint Monkey (Norton, 2014), which is set in 1950s Eastern Kentucky and won the Janet Heidinger Kafka Prize and the James Fenimore Cooper Prize for historical fiction. Saint Monkey was also the 2015 Honor Book of the Black Caucus of the American Library Association.
Townsend grew up in south-central Kentucky and took her first creative writing class at Harvard, where she earned her B.A. While at Duke University Law School, she cross-registered in the English department and took several formative writing workshops. In 1999, after four years as a broadcast journalist and then a lawyer in New York City, Townsend went to the Iowa Writers' Workshop, where she received her M.F.A. She spent a year as a Fulbright fellow in Côte d'Ivoire. Her recently completed novel, Kif, will be published in by Graywolf Press in 2022.
Townsend previously appeared in the Hughlene Bostian Frank Visiting Writers Series in Fall 20I9 and will serve as the 2020-2I Rachel Rivers-Coffey Distinguished Professor of Creative Writing at Appalachian.
Honoring the late newspaperwoman and writer Rachel Rivers-Coffey, the Rachel Rivers-Coffey Distinguished Professorship in Creative Writing annually sponsors the residency of a writer of national prominence at Appalachian State University. This position rotates among various distinguished authors of all creative genres; distinguished professors teach a creative writing seminar, conduct community outreach and are featured annually in the Hughlene Bostian Frank Visiting Writers Series.
Book Purchasing
To purchase books by the VWS authors, visit: https://bookstore.appstate.edu/c-144-visiting-writers-series.aspx.
Resources
University Library Resources on the Fall 2020 authors is available at: https://guides.library.appstate.edu/vws.
Contact
For further information on the Fall 2020 season, please email Susan Weinberg, weinbergsc@ appstate.edu.
The craft talk, titled "The Unreal," begins at 19:15 minutes.