VWS Spring 2023 Poet Ricardo Nazario-Colón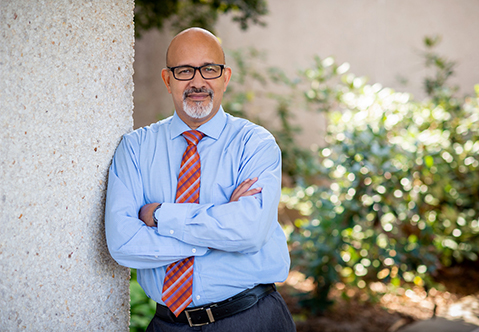 Ricardo Nazario-Colón
2023 Juanita Tobin Memorial Reading
Thursday, March 23
Reading 6-7:15 pm
Craft Talk TBD
Plemmons Student Union 201B Table Rock Room
Library guide to Ricardo Nazario-Colón
Dr. Ricardo Nazario-Colón was born in the South Bronx, New York City, and raised in the Highlands of Puerto Rico. He lives in the Appalachian region of North Carolina, where he works as the inaugural Chief Diversity Officer and Inclusive Executive at Western Carolina University. He also serves as President of the Appalachian Studies Association, 2022-23. He was the former Chair of the University of North Carolina System Diversity and Inclusion Council and the Governor's Advisory Council on Hispanic Latino Affairs.
He wrote his first poem during boot camp in the U.S. Marine Corps. In 1991 as an undergraduate at the University of Kentucky, he became a co-founder of the Affrilachian Poets. His work has been widely published and anthologized in print and online publications. He is the author of the chapbook The Recital (Winged City, 2011) and the poetry collection Of Jíbaros and Hillbillies (Plain View Press, 2010). His forthcoming books under contract are The Moor of the Bronx (Finishing Line Press 2022), and Latinx Voices in Appalachia (University Press of Kentucky, 2024). His research focuses on Black culture centers, multiracial identity experience, student leadership development, and African American faculty and staff retention.
He is a life member of Phi Beta Sigma Fraternity, Inc., and represents the western region of the state as one of three Gilbert-Chappell Distinguished Poets of the North Carolina Poetry Society. He earned a Doctorate in Higher Education Leadership from Western Carolina University, a Master's in Secondary Education from Pace University, and a Bachelor's in Spanish Literature and Latin American Studies from the University of Kentucky.
__________________________________________________________________
["I think one of the most important pieces for me is being able to tell stories….We often write about what we know. That's where we begin, and then we expand. Just being able to give voice to family stories and learning that these stories are similar to other people's stories. When other people read my work, they have a story to tell that resonates with them. That, I think, is important because it closes the gap of humanity and it shows that we are very much alike in many ways. Our lives are not as different as we might think. I enjoy that a lot."
-- Ricardo Nazario-Colón
Poem Video: "We Raised You" from the anthology COAL BLACK VOICES
https://vimeo.com/19690073

ABOUT Of Jíbaros and Hillbillies:
"People and place are as tied together as any two things can be. If you doubt that, drive across the country. Observe region and language and food. Better yet, go to an entirely different nation. Places make people. Places make different shades, different sounds and tastes and manners. And then, of course, places mingle. People move. New versions of words are made: new recipes become familiar. These poems are bold in how well they mingle. They're hilarious and angry. What is poetry without anger? Not much. Read these out loud: amp them up–try the voices on. Somehow these poems trace it all back: a whole history of heat and laughter. Back so far that it's all connected. At the end, it seems vitally important that we do know why we eat the things we eat; why we sound the way we do. Why we blame and take issue with certain things. This is deeply human–it allows for emotion and the mantras that keep us alive: that keep us tied to where we're from. These poems are stories of people who have endured a decent amount of uneasiness. Meet them: be with them. See that we are not being judged, / for this carnal dance. "
--Micah Ling in Poetry
The 2022-23 season is dedicated to the memory of Amy Greer, beloved colleague and friend.