VWS Spring 2023 Poet Thorpe Moeckel
Thursday, March 2 Novelist Jessie van Eerden and Poet Thorpe Moeckel
Reading 6-7:30 pm
Craft Talk TBD
Plemmons Student Union 201B Table Rock Room
Library Guide to Thorpe Moeckel
Thorpe Moeckel was raised in Atlanta, Georgia. From his late teens to his mid-twenties, he led trips on rivers and trails throughout the Appalachians. He earned a B.A. in English and Environmental Studies from Bowdoin College in 1994 and an MFA in Creative Writing from University of Virginia in 2002, where he was a Henry Hoyns and Jacob K. Javits Fellow. He has taught in the writing program at Hollins University since 2005, and loves to explore the good woods, waterways, and ridges around Virginia and West Virginia, both in writing and with family and friends in real time.
His first book of poems, Odd Botany, won the Gerald Cable Book Award in 2000, as well as the George Garrett Award for New Writing from the Fellowship of Southern Writers. In subsequent poetry books, Making a Map of the River, Venison, and Arcadia Road, as well as two nonfiction books, Watershed Days and Down by the Eno, Down by the Haw, Moeckel has stayed close to the woods and rivers of the Appalachians while exploring a variety of themes, in probing, surprising language and figures that scrape and squirm against easy piety for landscape, nature, family, love, loss, time, and the void.
His work has been widely anthologized and has appeared in many journals and magazines, among them Field, Open City, The Antioch Review, Poetry Daily, Taproot, Orion, Poetry, The Southern Review, and Virginia Quarterly Review.
In recent years, his work has been awarded a Kenan Fellowship at UNC-Chapel Hill, a Sustainable Arts Fellowship, and a National Endowment of the Arts Fellowship.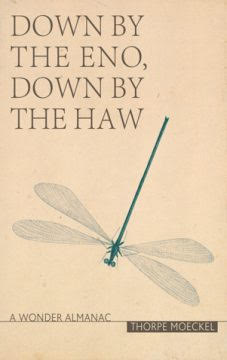 ABOUT DOWN BY THE ENO, DOWN BY THE HAW:
DOWN BY THE ENO, DOWN BY THE HAW is so rhythmic and rhymed, so riddled with light and webbed with spidery strands of connection, it moves the mind right past the obvious praise--that this prose sounds like poetry--to a stance of truer wonder. Moeckel is not the kind to let us be distracted by categorization, remarking about a bird, "If I knew its name, I wouldn't say it. If I didn't know its name, I'd make one up." His humility is earnest as his lyricism is grand, and Moeckel does intimately know the inhabitants of Piedmont environment to which he has committed himself, observing the compromised landscape with an awareness so enamored of every detail it is also "promiscuous." In the moments you are able to spend with these pages, you too will be let in, on the beauties tucked into the woods behind shopping plazas, and to a way of thinking and seeing that can, with what is gathered in some short lunch break walking, make the troubled-of-heart believe again that this world's tangles are where we are blessed to be ensnared.
--Rose McLarney

The word I think of with this stunning almanac is range. Moeckel ranges far and deep, farther and deeper than he has ever gone, while mostly "sitting and looking around" the Piedmont of North Carolina. And this wondrous epic expands his range as a poet, the language in these prose poems facile, playful, breathtaking. The sure-footed Moeckel torques poetry out of wandering in place, with breath itself a dance and an exploration. "There are roots in my lungs," he writes. And "I turtle on a fallen pine." One of my favorite poets has outdone himself. This book is delicious, inspiring, impressive.
--Janisse Ray
The 2022-23 season is dedicated to the memory of Amy Greer, beloved colleague and friend.