Academic Specialty:
Visual Communication; Scientific, Technical, and Professional Communication; Rhetoric
Office Hours:
TTH 1:00 -3:00 p.m. and by appointment
Education:
Ph.D., Rhetoric and Scientific and Technical Communication, University of Minnesota, St. Paul, MN
M.A., Professional Communication, Clemson University, Clemson, SC
B.M., Music Theory and Composition, Ohio University, Athens, OH
Selected Publications:
Gray, Jennifer, Wendy Winn, Joseph Cazier, and Samuel Volstad. "Stories of Breast Cancer: Using Text Analytics to Better Understand the Illness Experience." (under review).
Winn, Wendy. "How to Create Short Forms in Communication by Replacing Words with Images: A Pedagogical Approach to Universal Design." Nouvelles recherches sur l'Imaginaire. Ed. Emmanuel Vernadakis and Cécile Meynard, Presse de l'Université de Rennes. (forthcoming).
Winn, Wendy and Katalin Beck. "How ESP Pedagogy in International Virtual Collaboration Contributes to the Authenticity of the Learning Process: A Case Study." International Online Journal of Education and Teaching 5:4 (2018): 1031-1038.
Winn, Wendy. "Increasing Accessibility with a Visual Sign System: A Case Study." Journal of Technical Writing and Communication 44:4 (2014): 451-471.
Graff, Richard and Wendy Winn. "Kenneth Burke's Identification and Chaïm Perelman's Communion: A Case of Convergent Evolution?" The Promise of Reason: Studies in The New Rhetoric. Ed. John Gage, Southern Illinois University Press. 2011. 103-133.
Thaxton, Chris, Wendy Winn, Jay Fenwick, Terry McClannon and Margot Olson. "The Governing Principle Behind Design, Part I: Unifying Methodologies, Disciplines and Cultures Through the Physical Principle of Least Action." Design Principles and Practices: An International Journal 3.6 (2009): 325-348.
Thaxton, Chris, Wendy Winn, Jay Fenwick, Terry McClannon and Margot Olson. "The Governing Principle Behind Design, Part II: The Least Action Principle, Transparency, and Universalization." Design Principles and Practices: An International Journal 3.6 (2009): 349-362.
Winn, Wendy. "'Proof' in Pictures: Visual Evidence and Meaning Making in the Ivory-Billed Woodpecker Controversy." Journal of Technical Writing and Communication 39.4 (2009): 351-379.
Graff, Richard and Wendy Winn. "Presencing 'Communion' in Chaïm Perelman's New Rhetoric," Philosophy and Rhetoric39.1 (2006): 45-71.
Winn, Wendy and Kati Beck. "The Persuasive Power of Design Elements on an e-Commerce Web Site." Technical Communication 49.1 (2002): 17-35.
Visualizing Science
In fall 2006, Wendy Winn joined Appalachian State University's English faculty after completing her PhD at the University of Minnesota. In July 2007, she was one of 25 post docs and Ph.D. students selected from an international call for the Ischia Summer School on the History of the Life Sciences. The school's theme, "Visualizing Nature," directly related to her dissertation, "Visualizing Science: A Semiotic Analysis of Visual Representations in Ornithology Journals, 1859 – 2003." Her first publication under this theme, "'Proof' in Pictures: Visual Evidence and Meaning Making in the Ivory-Billed Woodpecker Controversy," adopts the theoretical framework from her dissertation, and was nominated for the 2010 National Council of Teachers of English best paper award for Excellence in Technical and Scientific Communication.
Universal Design
In fall 2007, she received a Humanities Research Cluster grant to study the concept of universal design (broadly defined as removing barriers to access) from an interdisciplinary perspective with Jay Fenwick (Computer Science), Terry McClannon (Education), Margot Olson (Technology and Environmental Design), and Chris Thaxton (Physics and Astronomy). The group presented their work at the "Third International Conference on Design Principles and Practices" in Berlin, Germany in Feb. 2009 and published two articles. In fall 2009, the group taught an Honor's course to first-year students where all five faculty presented the theory that emerged from their collaboration, from five different disciplinary perspectives. They presented research from their collaborative teaching experience on Humanities Day, Apr.2010
Universal Visual Design: A Case Study
In spring 2008, she collaborated with Christina Galvin (Human Development & Psychological Counseling) on a multi-pronged outreach research project with Lynn Mason, Executive Director of the Hospitality House (HH) in Boone. She designed a "universal" visual sign system for HH's new facility that communicates locations of its services to clients who are homeless and have diverse communication needs, including those who are illiterate or have limited reading skills, and those who speak little to no English. The signs are on display at the completed facility and her recent publication, "Increasing Accessibility with a Visual Sign System: A Case Study," uses the theoretical framework from her UD research cluster publications to analyze the data she collected from usability testing. She and Dr. Galvin are currently working on a paper about the unique pedagogical opportunities that arise from service learning projects.
Digital Humanities
In fall 2011, she received a Humanities Research Cluster grant to study the concept of digital humanities from an interdisciplinary perspective with Rosemary Horowitz (Professional Writing/Jewish Center), Lynn Doyle (Poetry), Amauri Serrano (Library Humanities Collections), and Hannah Jernigan (Higher Education). The goal for the year was to broaden the group's knowledge of the theoretical implications of technology on the humanities, develop an understanding of the tools and methods used, and explore the various ways in which they can integrate technology into their teaching, research, and professional work.
Pink Ribbons and Symbolic Meaning
Pink ribbons are ubiquitous, appearing on literally thousands of products ranging from Campbell's soup cans to cosmetics to cleaning products. Yet research suggests there has been a growing backlash to this corporatization of the breast cancer movement. To gain a deeper understanding of public perceptions of breast cancer awareness as conceptualized in the pink ribbon, she initiated a collaboration with Jennifer Gray (Communication) and Joe Cazier (Director of the Center of Analytics Research and Education) to apply text analytics to specific blog posts to capture women's insights using their own words. This research was supported by back-to-back University Research Council grants.
International Projects
In summer 2016, she co-led a study abroad to Angers, France, with Seth Cohen, Director of the Viticulture Program at ASU. Entitled "Wines and Vines of the World: Exploring Old- and New-World Traditions of Growing Grapes and Making Wine," this program's central focus was on the role of vineyards in culture, society, and agri-business in the United States and France. Visits to vineyards and wineries across Western NC set the stage for travel, discussions, and comparisons to practices at vineyards and wineries along the northern Loire Valley from the central region near Chinon and Vouvray to the coast. Students became immersed in French culture and were able to gain experience communicating in a technical field through their research and writing assignments.
For the fall semester 2016, she visited the University of Angers (in Angers, France), a long-term partner with Appalachian State University in faculty and student exchanges.* She was awarded an International Scholarly Assignment from ASU to teach graduate and undergraduate students how to master various genres of technical and professional writing, work with faculty on projects that enhance proficiency in English, and expand and deepen programmatic engagement between the two universities. She continues to collaborate with her colleagues at the University of Angers on projects that began with this visit.
In the fall of 2017, she initiated a study with Katalin Beck, Clemson University, to research English for Special Purposes pedagogy as it relates to international virtual collaboration. Given the rapid advances in information communication technology and the ever-increasing likelihood that students will be collaborating on cross-cultural teams in their future careers, creating opportunities to engage in collaborative writing projects across borders and observing the dynamics of these collaborations has high pedagogical value. Their research examined the learning process that occurred when engineering and computer science students from France and Germany were grouped with business and technical writing students from the US to work on co-authored documents. Of particular interest was how the international teams addressed the situational constraints of the collaboration and how it impacted cultural learning. The results were presented at the GlobELT Conference in Belgrade, Serbia, in May 2018, and a paper was subsequently published in an international journal on education and teaching.
*Note: the photograph shows her in front of the famous Château d'Angers, which is decorated in lights for the Christmas holidays.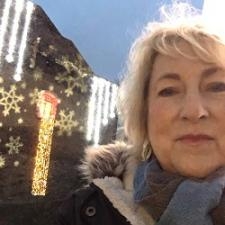 Title:

Associate Professor
Department:

Department of English

Email address: Email me

Phone: (828) 262-6928
Office address
120D Edwin Duncan