Teaching and Research Areas
Theories of World Literature
Literary Sociology
Global Modernisms
Global Anglophone Literature, 1900-Present
Print Culture and Book History
Translation Studies
Media Studies
Education
Vanderbilt University, BA (2012)
University of Wisconsin-Madison, MA (2016) and PhD (2019)
Monographs
Actors, Institutions, and Networks: Recovering Agency in World Literary Circulation in the Twentieth and Twenty-First Centuries. Under Contract.
Selling Books with Algorithms. Under Contract.
Works in Progress
"'In Accord with the Spirit of American Democracy': Tracing the Network of the U.S. Armed Services Editions." (Article)
"Algorithmically Processed Data in Translation Publication: A Quantitative Comparison of Amazon Crossing and Dalkey Archive." (Article)
"Teaching Black American Literature as World Literature." Invited article.
Publications
"Third Person Random." Post45 Contemporaries cluster on "Reading with Algorithms." Forthcoming 2023.
Making and Reading World Literature in a Pandemic: Global Logistics in Ling Ma's Severance." Journal of World Literature, vol. 7, no. 2, 2022. 184–201.
Translation of "Blick in den Strom" by Nikolaus Lenau, in Poems on Rivers, ed. Henry Hughes. Everyman's Library, 2022.
"Cut, Copyright, Paste: Proliferating Print Networks in Susan Howe's Melville's Marginalia." Book History, vol. 24, no. 2, 2021. 476–498.
"Review of Soldiers of the Pen by Thomas Howell." SHARP News, forthcoming 2021. 3 MSS pp.
"Review of The Work and the Reader in Literary Studies: Scholarly Editing and Book History by Paul Eggert." Papers of the Bibliographical Society of America, vol. 114, no 3, 2020. 378-381.
"Anthologizing Race: Folk, Volk and Untranslation in the Weimar Republic." Journal of World Literature, vol. 3, no. 4, 2018. 552–575.
"The Quarantine Garden" (Review of The Poetics and Politics of Gardening in Hard Times, ed. Naomi Milthorpe). Edge Effects. June 2, 2020. https://edgeeffects.net/the-quarantine-garden/

"Decapitation, Pregnancy, and the Tongue: The Body as Political Metaphor in Measure for Measure." Early Modern Literary Studies, vol. 20, no. 1, 2018. 1–19.
Website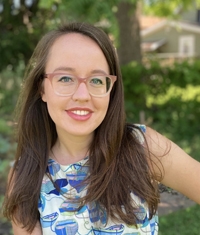 Title:

Visiting Assistant Professor
Department:

Department of English

Email address: Email me
Office address
Sanford Hall 433